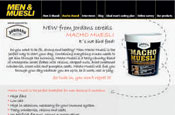 The product is an attempt to shift muesli from its female-oriented positioning to appeal to a wider audience.
The product is currently available only through a dedicated website, menandmuesli.co.uk, but the company plans to seek retail listings for the brand if it proves successful. Consumers who request a free sample of Macho Muesli from the site will also receive a sample of Jordans Special Nut Muesli.
Macho Muesli contains a base of 51% wholegrain cereals such as rolled oats and wheat flakes, which help combat circulatory diseases - the most frequent cause of death among men in the UK. It also contains Brazil and pecan nut pieces, a source of selenium, which Jordan claims is an essential ingredient for men's health and necessary for the immune system.
The product trial follows the appointment of Carol Welch as marketing and innovation director for the company (Marketing, 6 February).