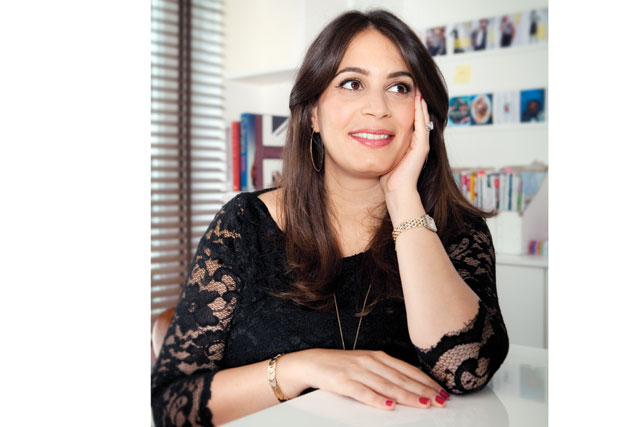 Deborah Joseph is huge - eight-months-pregnant huge. She politely asks if we can photograph her sitting down, bump hidden behind her expansive desk. But Joseph needn't worry, because she is ravishing. Cocooned in a black lace ASOS dress and sporting feisty snakeskin heels, she is groomed to silky, long-lashed perfection. Full-lipped and with model-worthy skin, she could be on the cover of a glossy women's magazine - a magazine called Easy Living, say.
Joseph clearly knows the value of looking glamorous. No surprise, then, that one of the first things she did after becoming the editor of Easy Living in October last year was to slap more Hollywood stars on the cover. Until then, the magazine had courted British celebrities such as Christine Bleakley and Davina McCall. Now, Joseph works hard to secure red-carpet sirens such as Scarlett Johansson.
The former entertainment director of Conde Nast stablemate Glamour says she recognises the commercial importance of having "the right celebrity on the cover". But that's not to say Joseph has altogether abandoned our own paparazzi fodder. "I'm keen to do home-grown stars as well, as a lot of our readers relate to them," she says. "But I think that without the right celebrity on the cover, you just don't sell."
The status of cover stars is not the only thing that has changed recently at EasyLiving, the magazine that targets family oriented, working women in their late thirties and early forties. Joseph, who has previously worked at the Daily Mail and was the award-winning editor of Conde Nast's Brides before her current role, has clearly been brought in to shake things up.
In brand terms, Easy Living trails its closest competitor, Hearst Magazines UK's Red, the circulation of which outstrips Easy Living's by more than 60,000. Since 2009, the Conde Nast title had been steadily losing readers - dropping from 180,034 in the first half of 2009 to 140,242 for the second half of 2011.
That was until the first six months of this year. According to the latest consumer magazine figures from the Audit Bureau of Circulations, Easy Living was the only women's lifestyle title to report growth both period on period and year on year, up a whopping 17.1 and 3.8 per cent respectively. In a market that is down 5.1 per cent overall, those numbers are even more startling. Joseph's first newsstand issue as the editor was the March issue (published in February), so it is plain to see that the turnaround in fortunes is much to her credit.
And while the cynic might assume that there had been bulks or bagging in that period, Chris Hughes, the publisher of Easy Living, is proud to point out that none of that occurred, and insists that bagging hasn't taken place "for as long as I can remember".
What has changed in a promotional capacity is the coverprice. For Joseph's first and second issues, the usual £3.70 price tag was dropped to £2. The following issue was priced at £2.50 and the June and August issues at £2.90. Joseph explains: "We have experimented with the price, but so has the rest of the market, so it's an even playing field. Marie Claire is doing it; Red has been selling in the Daily Mail for a pound. You'd be hard pushed to find a magazine that isn't playing with the coverprice."
Along with an investment in talent, including better photographers, Joseph has added ten extra pages of fashion to the magazine, as well as the kind of hard-hitting confessional features she used to commission at the Daily Mail ("My life with an alcoholic", one headline screams in the September issue). She explains that while the Easy Living reader is particularly loyal - it currently has 63,343 subscribers - those thirtysomething readers who first picked up the magazine at its launch eight years ago are now in their forties, and she has felt the need to move the goal posts back a few yards: "The truth is we've been trying to attract a younger reader, say a 30-year-old."
Yet Joseph is the first to admit that although she has effected a lot of change quickly, much remains to be done. "We're not there yet. We're still working on getting it right," she says. Joseph reveals that among the brand extensions in the pipeline is an Easy Living awards, inspired by the success of brand spin-offs such as the Glamour Women of the Year Awards.
The arrival of Joseph has also heralded a new website. Surprisingly, many of the women's glossies still fail to translate well online, where they tend to look like clunky shopping directories. The Easy Living website, however, stands out from the crowd. Inspired by the visual template of Pinterest, sections such as fashion, beauty, home and travel are easy to navigate. "I really haven't got the patience to click through five times to get what I want," Joseph, who at 38 views herself as the target reader of the magazine, says. "I think ours is just fresher than anybody's."
Impressively, the website's number of unique visitors has more than doubled since the revamp, with 71,037 people now accessing it every month, according to the publisher.
It is timely that the launch editor, Susie Forbes, handed over the reins when the magazine was hitting its lowest circulation, allowing the brand to be scrutinised by a fresh pair of eyes. Joseph is diplomatic about its previous decline, saying simply: "The magazine hadn't been redesigned for seven years and every magazine needs refreshing."
Where previously the magazine's spine, typically the preserve of a shouty brand strapline, was strangely bare but for the website address, there now lies the inscription: "Glamorous, glossy, grown-up." So long as the deputy editor, Rachel Sullivan, sticks to this course while Joseph is away on maternity leave, Easy Living can surely only continue to inject more va-va-voom into the women's lifestyle market.
THE LOWDOWN
Age: 38
Lives: Finchley, London
Family: Son, Jack, and husband, Adam Clyne, who works at TVC. My sister-in-law is the IPA president, Nicola Mendelsohn - could you ever have a better mentor as a working woman?
Hobbies: Walking my two pugs, Frank and Betty, on Hampstead Heath, and charity work - I was on the board of Macmillan Cancer Support
Energy levels (out of ten): It could be a 14 or a two depending on what day it is
Breakfast: I am craving chocolate for breakfast, lunch and dinner at the moment
Favourite holiday destination: Maldives (I went a lot as the editor of Brides)
Work and life mantra: I'm just trying my best.