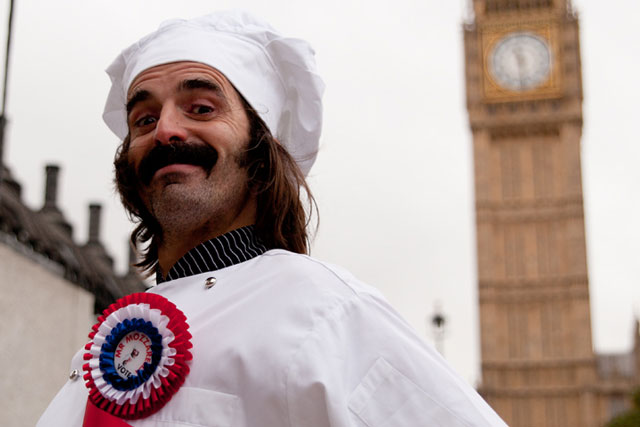 Mr Mozzarella has featured in two ads in Just Eat's new campaign, which shows a group of chefs he leads taking on foodies with the message, "Don't cook, just eat".
The by-election, which takes place on 15 November, was prompted by the resignation of Conservative MP Louise Mensch.
The character is campaigning as an independent on behalf of the Don't Cook Party, which has been registered as an official party with the Electoral Commission, according to Richard Murfitt, head of brand marketing at Just Eat.

Murfitt claimed the idea of entering the election, which builds on the brand's manifesto-type marketing and TV advertising, had come out of people within the business.

"This is our first foray into politics," he said. "It's a kind of suck it and see approach."

Murfitt will be spending the next two weeks in Corby helping the campaign, which will aim to win publicity by offering facepainting of 'Mr Mozzarella' moustaches and rickshaw rides.
Just Eat has created a Don't Cook Party website to engage people with the campaign, and will soon offer the ability to make a donation to the party via the website.
Follow @DanFareyJones