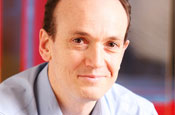 Quoting research, Murphy argued that the West loves brands less and that consumers in these markets are falling out of love with brands. This phenomenon has been most acutely observed in the Netherlands, UK and US, while in the developing world of Asia and Latin America brands are still widely loved.

His bold solution was more fun. Calling for marketers and agencies to inject this attitude back into their approach to brands, he suggested every brand have a toy figure that represents the brand and showed simple software that quickly created several examples.

The format of the Battle of Big Thinking sees the audience electronically vote for the speaker of their choice at the end of each session.

Murphy won first his Big Global Thinking session beating Jonathan Mildenhall, VP global advertising at Coca-Cola, and Will Harris, UK marketing director at Nokia, before going on to be voted the big thinker of the day.

Murphy had some tough competition. PHD's head of innovation John V Willshire won the Big Thinking in Innovation session with his idea about social production. He asked: "How do you socialise the mass production model?"

Jeremy Ettinghausen, digital publisher at Penguin, won the Big Thinking in Social Media causing a stir with his argument that social media is less about the conversation and more about action and selling products. He also questioned whether social media was a fad. He beat Amelia Torode from VCCP who pitched that it is not social media, but social ideas.

Malcolm White from Krow had 15 big ideas in 15 minutes and won his Big Thinking in Planning slot while James Mitchell from Carlson Marketing won the open mic slot with his entertaining three minutes on why there is too much information. Katy Lindemann at Naked also scored in her social media slot open mic slot arguing that places aren't social but rather what we do there is.

Another standout was Peter Sells from BBH who won 'Big Thinking in Mobile', not least for his opening gambit, "Is it just me, or is mobile marketing a bit shit?" The former professional gambler argued (among other things) that mobiles are popular as they have the potential to make us happy.

Claus Moseholm from Go Viral won Big Thinking in Free Spaces in a very interesting session where online banner advertising (other than search) was largely written off as a waste of time.

This session focused almost entirely on the concept of 'freemium' and of giving value to consumers. Moseholm's idea was "earned media" because nothing that is free is of value.
In the final session of the day, Big Marketing Thinking, Robin Wight, the chairman of Engine, launched a Save Advertising campaign, via the use of brain science, which was enough to see off competition from British Gas's Andrew Hogan and former Capital One markerter Justin Basini.
More on Brand Republic - blog coverage of the Battle of Big Thinking
#Bbot The power of negative thinking - Malcolm White's presentation
#Bobt: Online advertising sucks aka Big Thinking in free
#Bobt The business of happiness - Big Thinking Mobile
#Bobt Social media: a fad or the wrong term? Big Thinking in Social Media
#Bobt Big Thinking in Innovation
#Bobt: Why we need more fun Big Thinking in Planning
More on the web
Check out what people have been saying about The Battle of Big Thinking on Twitter
Industry blogs on #bobt
Social Production... my 'big idea' by John V Willshire
Escaping the Matrix - Battle of Big Thinking 2009 - Justin Basini

Robin Wright's Save Advertising

Independent Thinking - Mark Brown from Weapon 7
Liar Liar, Pants on Fire (Or When Earned Media isn't Earned) - Katy Lindemann
Confronting the elephant in the room (slides) - Katy Lindemann - Battle Of Big Thinking 2009