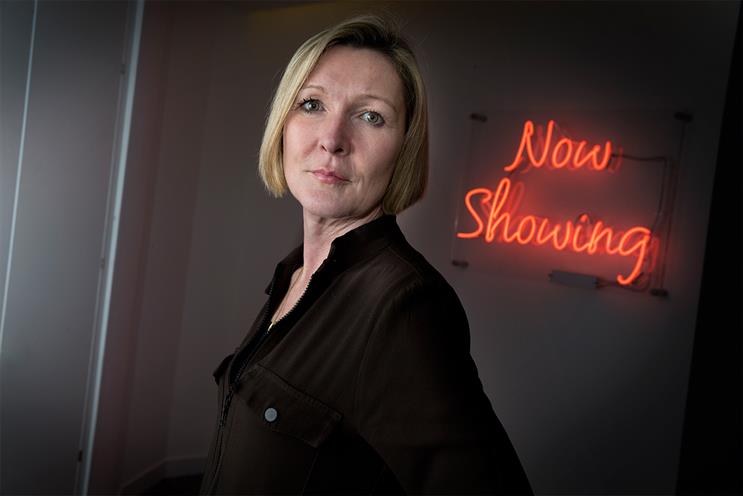 When the average age of those working in media is thirtysomething, anyone wanting to stay in the game needs to learn to adapt. The reinvention of Karen Stacey as leader of the cinema sector is something to behold.
Stacey is the quintessential media salesperson. Having stumbled into the industry from school after her mum responded to a job ad on her behalf, she began working in the accounts department at the radio station LBC. After a few months, Stacey moved to its commercial team "because it looked like they were having loads more fun" – and she has never looked back.
With her Estuary twang and head for figures, Stacey cut a swathe selling airtime around the likes of Jazz FM. After three years, she moved into TV sales as a business manager at Channel 4 before starting her 16-year stint at Bauer Media, for which she is best-known, in 1997.
Having lost out on Bauer's commercial managing director role to Richard Dunmall in December 2013, Stacey had time to think about her own strengths and ambitions. Working on ad-hoc consultancy briefs, for example, had never felt quite right: "I'm a company girl," she says. "I like the security and the structure of being part of a company."
It was serendipity when she bumped into Simon Rees, Digital Cinema Media's former chief executive, at the Media Week Awards judging last autumn. Having overseen the digitisation of DCM's ads during his five-year tenure, Rees felt it was time for a more commercially minded leader to take the reins.
For Stacey, the chance to be an industry ambassador again, with the ability to nurture her own team, immediately grabbed her. Still officially working in an interim capacity, she leaves no doubt about her long-term motives.
"Yes, it's an interim role – but it's mine," she says. "I think you have to go all in. They are doing due diligence around the search but, whether it's for six months or longer, I'm approaching this as a CEO. I'm all in."
It will come as no surprise to those who know Stacey that, within her first four weeks at DCM, she had one-to-one meetings with all 70 staff. "The people in any company always know what the challenges are; you've just got to ask them," she explains.
'The people in any company always know what the challenges are; you've just got to ask them'
She adds: "My remit is: let's get cinema to be a must-have, not a 'nice to have'. It's a lovely sell but, at the moment, it's all emotional. We need to move on to: 'Let me tell you, Mr Advertiser, when the audience sits in front of your ad, this is what it does.'"
There is pressure to deliver. DCM failed to find a replacement for EE as its long-term Gold Spot sponsor in October – a contract valued at £15 million a year. The plan has now shifted to selling the spot on a film-by-film basis. It plays to the flexibility of DCM's newly digitised system, but it's a high-risk move that could be as turbulent and cyclical as cinema admissions.
Due to DCM's ownership structure (it is co-owned by Cineworld and Odeon & UCI Cinemas Group, and works for Picturehouse, Vue and hundreds of independent cinemas), its finances are not public.
But it is the undisputed market leader, responsible for nearly 3,000 screens and about 80 per cent of the cinema ad market. It means Stacey has to straddle acting as an industry ambassador and as a salesperson.
Sources suggest DCM generated just shy of £70 million in ad revenues in 2014. Stacey refuses to be drawn on figures but says the target is to "absolutely achieve double-digit growth" this year.
Helping to stoke this optimism is a raft of blockbusters in 2015. From the early success of Paddington to last week's launch of 50 Shades Of Grey, and with sequels planned for some of the biggest movie franchises – including Mission: Impossible, James Bond and Star Wars – this is the year to make hay.
There are now an average 20 minutes of ads before films, referred to rather grandly as the "pre-show" period. For a punter, it can test the patience.
That said, one cannot doubt the impact cinema ads have. When the spot is funny, you hear a roomful of people laugh – no other media allow for such an immediate, audible, shared response. Research has proved that even when the exact same ad is watched on TV and at the cinema, people can react quite differently to it in the closed, larger-than-life cinema surroundings. This should help to underline the power of great cinema ads.
"It's a very emotional experience and can be extremely efficient at connecting with the right people at the right time," says Dominic Williams, head of trading at Dentsu Aegis Network. "However, it's competing in a very busy, competitive market and needs to get the message about shorter lead times out there."
A key plan to push cinema further up the funnel will be to stress its valuable audiences. Charlie Yeates, the head of cinema at MediaCom, spent about £20 million on the channel last year and says it tends to deliver young and upmarket audiences who are light TV viewers. He adds that it is crucial for agencies to develop video-rating metrics to bring cinema into the fold like video-on-demand has.
Yeates also notes that cinema planning remains a manual process, requiring lots of phone calls and leg work, with patchy data available. "The industry needs to help create a more sophisticated planning system," he points out.
Stacey, who admits to having "ten ideas a minute" at present, is also looking at apps and loyalty cards to create first-party data for advertisers in the future. It's early days but, as Stacey says, she is all in.