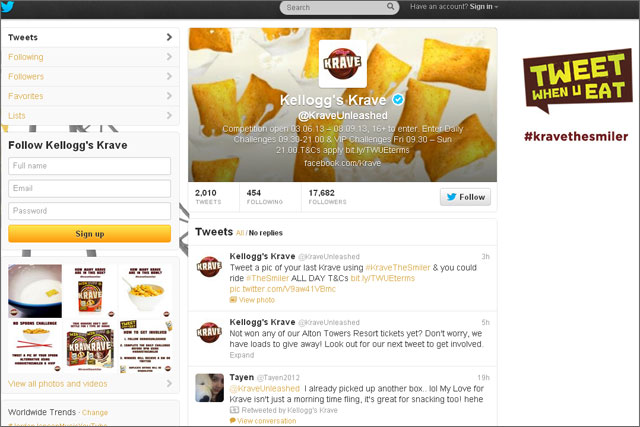 Bryant (below, right) was commenting on the launch of the new Kellogg's Krave campaign, which has a strong social media bias and is particularly focused on YouTube and Twitter, where consumers are being encouraged to take part in daily challenges on Krave's Twitter channel @KraveUnleashed.
She said: "For our teen audience, real life and virtual life are one, so social media as a channel is something we are increasingly looking to for this brand and for Kellogg's.
We've done things with Krave in the past on Facebook, but this is the first time that any Kellogg's brand has used Twitter as the campaign mechanic.
"Social media is a more and more important part of people's lives and Twitter is a very simple medium for consumers to get involved. We've had more than 3,000 tweets in the first week of the campaign and seen some fantastic creativity from our customers."
Kellogg's current Krave campaign, created and delivered by Carat, Isobar and ChannelFlip Media, offers consumers the chance to win VIP experiences at Alton Towers, as well as fast-track tickets and all-day passes for its latest ride, The Smiler, by taking part in various challenges via Twitter.
Bryant said: "Compared to things we've done in the past like putting codes on packs that need to be entered into a website, or asking people to email or write in, Twitter makes it far simpler for this audience – who are completely digitally savvy and social media savvy and for whom their mobile is their lifeline – to engage with our brand.
"Some of these YouTube vloggers are becoming celebrities in their own right in terms of the number of subscribers they have and leveraging that is a great way to tap into what teens find relevant.
"At the same time, we will continue to use above-the-line advertising and we've got a digital element to this campaign going live on 15 June, followed by TV on 24 June and cinema advertising running in July."