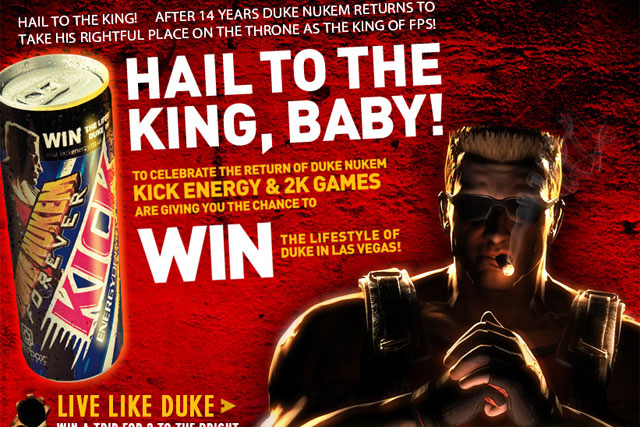 The promotion launches this week across two million Kick Energy cans, in both the on- and off-trade, to support the launch of the new computer game, 'Duke Nukem Forever'.
The promotional cans carry a QR code, a quick-response activation barcode that can be scanned by a smartphone or QR application that will direct the consumer to www.kickenergy.co.uk/dukenukemforever.
The dedicated website allows consumers to enter a competition to win a PlayStation 3 slim console, a selection of "Duke experience days", Duke Nukem branded t-shirts, or a trip to Las Vegas.
Simon Green, global brands marketing director, said: "This is the second high-profile, on-pack partnership for Kick Energy in this year, and is a key part of our groundbreaking £2.5m marketing campaign for 2011 dedicated to making the brand synonymous with gaming.
"Kick Energy is delighted to be partnering with 2K Games for 'Duke Nukem Forever', as it is one of the most highly anticipated games of the year and a real coup for the brand."
Global Brands owns VK, Corky's, Kick Energy and Amigos Tequila Beer. Last year it bought Inspirit Brands, adding El Dorado Rum and St Germain, among others, to its portfolio.
The glucose and stimulant drinks sub-category grew 19% in 2010, according to the Brivic Soft Drinks Report released in March.