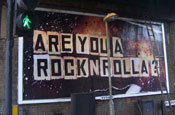 A teaser campaign for the film, due out on 5 September, asking "Are you a RocknRolla?" is running across national washrooms and beer mats combined with 48-sheets in urban London sites.
Yesterday, the campaign was expanded to national T sides with an upweight in London, London six-sheets and four large format special builds that have been developed with JCDecaux and Titan.
The gold-framed special builds, positioned in urban points of north, east, south and west London, will remain blank for the first few days after which four teams of graffiti artists will paint in the frames. The graffitied frames will then remain on display for the rest of the campaign.
The film follows the story of London's criminal underworld after a Russian mobster organises a crooked land deal and his lucky painting is stolen.