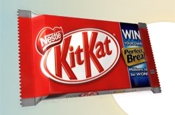 The "Fashion Break" campaign is Kit Kat's second promotion this year, following on from January's "The Perfect Break", which offered the chance to win a bespoke holiday. The campaign will launch on May 4.

In addition to a cash prize the Fashion Break push will include a £2 voucher for a high street fashion retailer in every wrapper.
Consumers need to go onto the 'Kit Kat Perfect Break' site and enter a unique on-pack code to find out if they have won one of 100 £1000 prizes.

Nestle UK trade communications manager Graham Walker said: "Cash promotions are a great incentive for consumers to purchase, especially in these current economic times. Research shows 84% of us are likely to buy into a cash promotion."

The promotion will be supported by a £6m TV campaign which will be fronted by an as yet unnamed model. She will be unveiled on a dedicated episode of Living TV programme Coleen's Read Women.