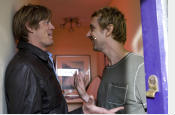 The ad, promoting the company's BT Vision and Broadband products, will attack pay-TV rival brands, such as Virgin Media and Sky, for the fact that consumers must pay for channels they never watch.
The 40-second spot, created by Abbott Mead Vickers BBDO, which breaks on Monday 6 October, shows Adam arriving at a friend's flat for Sunday lunch, and mocking him for how often he watches obscure stations such as the Deep Sea Fishing Channel. The ad then cuts back to Adam's flat, where he can choose what to watch on-demand with BT Vision.
The ad is the latest installment in an on-going £11m TV campaign. In the previous ad, BT toyed with the prospect that its on-screen family would be splitting up after Adam moved to Cornwall to take up his 'dream job', putting his relationship with Jane under strain. It is not known whether she will return for future campaigns.