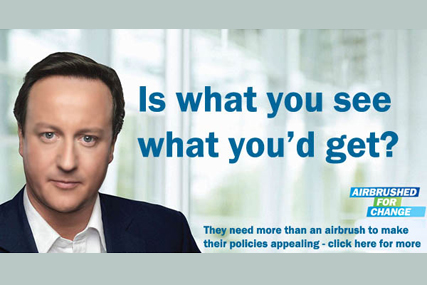 It is thought to be one of the first instances of a major political party in the UK adopting communications ideas created by their supporters rather than an advertising agency.
Spoofs of the poster ad featuring an airbrushed looking Conservative Party leader first appeared on the Go Fourth Labour supporting blog last week, which is run by former deputy prime minister John Prescott.
The Go Fourth spoof had Cameron alongside the headline "Tax breaks for the richest 3,000 estates? Because I'm worth it", while the original created by Euro RSCG had the words "We can't go on like this. I'll cut the deficit. Not the NHS".
Since the original spoof a website has been set up by a Labour Party supporter called Mydavidcameron.com showcasing almost 20 posters spoofing the airbrushed original.
Created by Mydavidcameron.com and by other Labour-supporting bloggers, spoofs on show include "I love the BBC so much, I want to cut it up into little pieces and give it to all my friends". Another has a photoshopped Cameron next to the Madame Tussauds logo.
Clifford Singer, who is behind the Mydavidcameron.com website, said he had more spoofs coming in than time to post and would be putting them on display shortly.
The Mydavidcameron.com website includes a template that can be downloaded by supporters to create their own poster spoof and it is this that Labour has used to create its own ad, which is displayed on the homepage of the Party website.
The Labour Party's version has the headline "Is what you see what you get".
The Labour Party's digital team credited the Mydavidcameron.com site in a tweet yesterday when it launched its version: "Our take on airbrushed for change - is what you see what you'd get? With thanks to #mydavidcameron for template".
Labour launched its spoof and put it on the homepage of its website after prime minister's question time yesterday where Gordon Brown made references to Conservative Party airbrushing.
Digital campaigning is likely to play a significant role in the 2010 election campaign and will be hugely important to the Labour Party, which will have a marketing budget reported to be around £8m and can not match the estimated £25m the Conservative Party will have to spend.
With party supporters on both sides of the political divide more active online than ever before Conservatives and Labour supporters will be trading blows as the campaign gathers momentum.
Last week Tory bloggers launched a campaign to try and oust Labour new media spokeswoman Kerry McCarthy MP called Kerry Out.
However, this campaign was condemned by some Tory bloggers as being over the top.
One Tory blogger known as Tory rascal commented: "I have no interest in ad hominem campaigning and do not support any of the personal slurs or insults that have been doing the rounds on Twitter."
More on Brand Republic