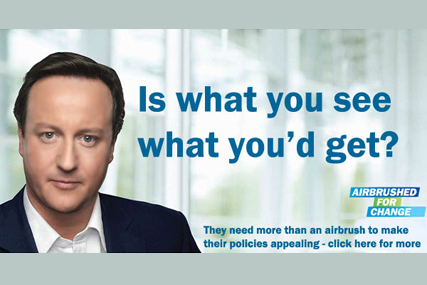 The party last week sought to capitalise on the website mydavidcameron.com, created by a blogger making fun of the Conservative Party leader.
Labour intends to continue to focus on the Electoral Commission's inability to police online ads and social media campaigns attacking rival parties' policies. While the watchdog has talked of a desire to regulate campaigning online, it currently acts only in an ad­visory capacity.
Labour's website features the Cameron spoof heavily, and during Prime Minister's Questions, Gordon Brown picked up on the alleged airbrushing of his rival's image on posters.
Labour plans to make use of such campaigns instigated by activists, as part of a ramped-up digital strategy (Marketing 9 December).
Kerry McCarthy MP, Lab­our's new media campaign spokeswoman, said the push came from "supporters" who form a network nationwide. 'Parties can no longer be about top-down messaging, and we will be continuing to use initiatives and ideas coming from our supporters as we approach the election,' she added.
Simon Collister, head of non-profit and public sector at social media agency Weare­social, said: "Using non-official material in the election run-up is one of the most exciting areas to watch, as the Electoral Commission has said it hasn't got the capacity to police user-generated content. Lab­our has seen an opportunity and piggy-backed on it. Broadly speaking it's a smart strategy, but it needs to be done cleverly."
The strategy has been attacked by rivals who say that Labour is stealing its marketing material, a claim that is gathering pace in the blogosphere.
A party source denied the accusation. "These tactics aren't dirty", he said. "I don't see a correlation on how much you spend and how effective it is".
Nonetheless, Labour will be aware that, while online campaigns can be low-cost, they still have the potential to go wrong. When it adopted the 'We love the NHS' campaign on Twitter last year, it was roundly criticised online.
Expert comment
George Nimeh, European director of digital, Iris
Everyone wants to follow the Obama camp­aign's lead, but some of these light-hearted ideas do not meet the serious needs of the people. There are two ways the web can help make a breakthrough.
First, it doesn't cost as much as outdoor, especially when seizing on content created by others. The second, bigger point is that, as seen with the 'Slap Nick Griffin' campaign, bloggers now have a platform. Political parties with any savvy no longer ignore them.