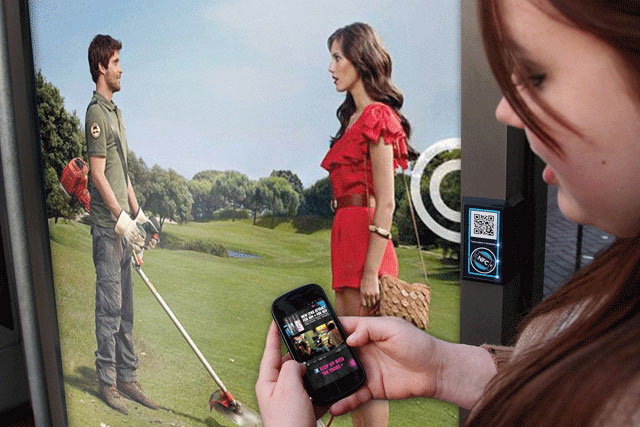 The trial, carried out in the town by Kinetic and JCDecaux in March, found 78% of people who connected to a poster using NFC said they were positive about the experience and cited the ease of use of NFC as the reason for the trial's success.
When those who interacted with the posters using an NFC-enabled phone were offered video content, 28% of them downloaded the content. When they were offered previously unseen content, 49% of people chose to download it.
The brands involved in the trial included Unilever's Magnum; Toni&Guy; Vaseline and Lynx; the Universal Pictures films 'Battleship' and 'Immortals'; GSK's Lucozade Sport; ITV2; H&M; Mercedes; EA Games' 'Mass Effect 3', and Morrisons.
Richard Brooke, communications buying manager at Unilever, said: "As one of the UK's largest advertisers, it's important that we continually explore the emerging digital world to get a glimpse into the future of marketing – and even play our part in shaping it.
"The Reading trial gave us the perfect opportunity to experience this way of opening conversations with our consumers. The four-week trial showed that we can successfully combine the out-of-home channel with mobile technology, to create a rich and deeper engagement with our consumers."
A spokesman for JCDecaux said the trial was the biggest study of its kind. During the four-week trial, 3,000 people interacted with ads from the 13 brands on one of the 306 six-sheet posters on Reading's streets or in the Oracle shopping mall.
This research found that 87% of people with NFC-enabled phones who interacted with the posters said they were likely to repeat the experience. When questioned, 80% of non-NFC phone owners said they would like to use it in the future.
Although it has garnered lots of attention, NFC is still a relatively new technology and is only installed in a limited number of handsets, including the Samsung Galaxy Nexus and the Nokia 700.
David McEvoy, marketing director of JCDecaux, said: "With Smartphone penetration set to increase and the rise in NFC-enabled phones, there is a great opportunity for outdoor advertising to provide consumers with engaging and interactive campaigns on the move."
The research was made up of four parts: real-time data capture of the number of interactions; interviews with a small panel of super-users of smartphones; weekly quantitative research, and a quantitative estimate of smartphone penetration.
Nick Mawditt, global director of marketing and insight for Kinetic, said: "The experience of interactivity elicits overwhelming positivity around the brand, able to drive both the conversion and the retention of customers.
"This trial has resulted in real insight about the types of experience, our preferred technologies and the importance of relevant content which will inform the industry's future."
Follow Maisie McCabe on Twitter @MaisieMcCabe