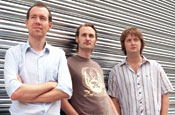 Last.fm, bought by CBS Corporation for $280m in May last year, now includes a library feature, which allows users to archive songs of their choice without having to listen to them first.

The site now also offers clients skin advertising, launched this week with communications giant Motorola, in which the entire background is taken over by an ad. Devised together with Motorola's agency, MindShare, the skin ad seen by the user will change depending on the track being played at the time.

Last.fm co-founder Martin Stiksel also revealed how the site plans to expand its reach beyond the 21 million global unique users who are already accessing the website regularly.

Last.fm In A Box is a service that allows users to install a Last.fm widget to websites they frequent, such as MySpace, and stream Last.fm via those sites. Last.fm then shares revenue generated by ads on the widgets.

Stiksel told Media Week: Our attitude has always been, if we can't get a person to the website, we can get the website to them.

We have 19 million users accessing our services through the web using the tools we give away for free.

He has not ruled out further deals with third-party audio providers, such as the agreement struck with AOL Radio in May.

The Time Warner-owned firm had run radio in the past based on in-house technology, but opted for a partnership with Last.fm to bring a youthful audience to its site.
AOL Radio is doing very well and we are talking about extending that partnership, added Stiksel.

We can offer this solution with a licensing and streaming structure and a full package that is a very rich experience, so there will be more to come."