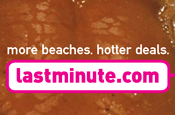 Five un-named creative agencies will compete for the account but by mutual consent, Farm will not repitch.

The agency will work with lastminute.com until the end of 2008, with the new agency taking the helm in 2009.

Julie Davidson, the marketing director for lastminute.com, said: "As we celebrate our tenth anniversary, we are seeing some very exciting times ahead for lastminute.com.

The market is increasingly competitive and we need to ensure that lastminute.com stays ahead of the game in pioneering communications.

"Over the past two years, Farm has delivered some award-winning creative work for us and although we will continue to work with them through our tenth anniversary, we'd like to thank them for all their hard work and enthusiasm in helping our brand to achieve so much."