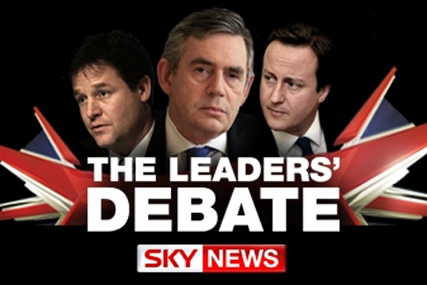 Between 8pm and 9.30pm an average of 2.13 million people watched Nick Clegg, David Cameron and Gordon Brown on Sky News, 586,400 people watched the debate on Sky 3 and a further 1.36 million people watched the debate on BBC News.

An average of 300,000 people watched the repeat of 'The Sky News Leaders' Debate' on BBC Two between 11.30pm and 1am.

The figure represents a large audience for a programme on digital TV, but the first debate on ITV1 last Thursday was watched by 9.4 million viewers.

Liberal Democrat leader Clegg was declared the unanimous outright winner last week but the pollsters were more divided after last night. Clegg was declared the winner of three polls but Conservative leader Cameron won two.
The gaps between all three candidates had also shrunk significantly.

According to pollsters YouGov, Cameron won the debate with 36% compared to Clegg's 32% and Brown's 29%. The remaining 3% were left undecided.
The ITV News/ComRes poll found that Clegg won the debate, with 43% of the votes, compared to 26% for Cameron and 20% for Brown. However, uncertainty reigned with 11% unable to decide on a winner.

An Angus Reid poll said Clegg was the winner of the contest. 33% of respondents said Clegg had won, 32% choose Cameron, and 23% chose Brown.

A Times/Populus poll said 37% of the audience thought Cameron won, 36% thought Clegg won and 27% thought Brown won the debate.

Online, a poll of more than 20,000 Facebook users declared Clegg to be the winner with 48% of the vote, while David Cameron and Labour leader Gordon Brown commanded 27% and 25% respectively.
Meanwhile, 10 Downing Tweets, a new website to focus on the General Election polling data based on the votes of people on Twitter, currently place the Lib Dem's ahead overal with 39%, Labour with 30% and the Tories trailing on 26%.
However, the total number of Tweets last night were apparently down by almost a quarter on last week. Read more on Brand Republic's digital blog The Wall.