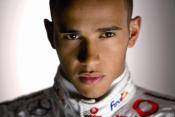 Lenovo will announce the deal tomorrow but according to sources, the company will pay a similar fee to that it currently pays to sponsor Williams. However, it is believed the deal will not involve any on-car branding.
The brand, which is also a global sponsor of the Olympic Games, will push its branding through trackside ads.
The news comes as a timely boost for McLaren. Team boss Ron Dennis has estimated that the team's revenues could drop by as much as £100m as sponsors cut advertising budgets.