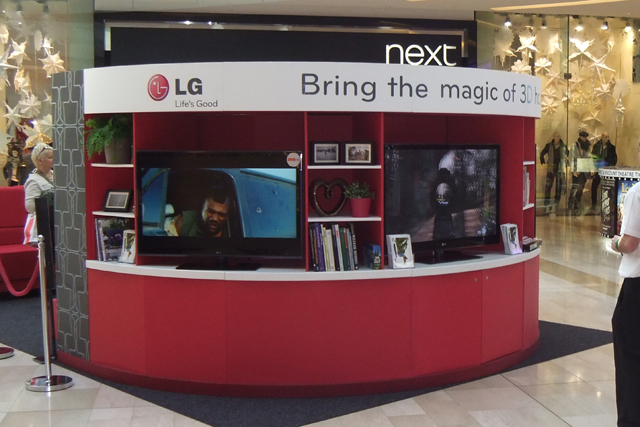 The campaign will also incorporate digital, experiential and social media activity to push its range of 3D TV sets. The cinema ads are the first to be made for the brand and will air from 10 December.
The digital and cinema ads, directed by 'The IT Crowd' actor Richard Ayoade, were created by Mindshare and will be shown as exclusive content before new releases 'Tron Legacy' and the new 'Chronicles of Narnia' film, which premiere on 9 December.
Ads feature comedy duo Tim Key and Lloyd Wolf taking the viewers through some of the common concerns about purchasing a 3D TV, using verbal and visual illustrations.
A shorter version of the cinema ad will play out in standard cinema screenings.
The digital campaign extends the themes of the cinema ads, asking for viewer questions about the product. Polls have determined the most common questions, and answers are pre-recorded and play as if they were live replies.
LG partnered with Sky to demonstrate 3D services in pubs and bars throughout 2010, and more than 1 million people experienced the technology first hand.
LG's head of marketing Stephen Gater said: "Our unique partnership with Sky has helped solidify LG's position at the forefront of 3D consumer technology.
"Millions of people have now enjoyed a 3D experience in the cinema. Working with Sky, we have now brought 3D to life to around a million people in pubs across the country. The next step and the aim of this new integrated campaign is to help people bring the magic of 3D into their homes," he said.
LG and Sky struck a deal in September in which Sky will recommend LG to its customers as its preferred 3D partner.
The relationship will be extended in the experiential campaign, which is being handled by LG, and will put a sitting-room sized display in locations such as shopping centres featuring a large sofa, popcorn and 3D TV showing Sky's 3D content.
LG is the only manufacturer to offer both stand-alone and cinema 3D TV technology, and the campaign uses the slogan 'Bringing the magic of 3D into your living room'.
Gater said: "We recognise that technology has evolved at an astonishing rate over recent years and that some consumers are overwhelmed by the choice and variety now available.

"This campaign is our chance to really shout about being Sky's first choice for 3D TVs whilst also explaining to the public what that means to them."
LG launched a second campaign this month, to push it Optimus One mobile handset, a tie-in with actress Kelly Brook.