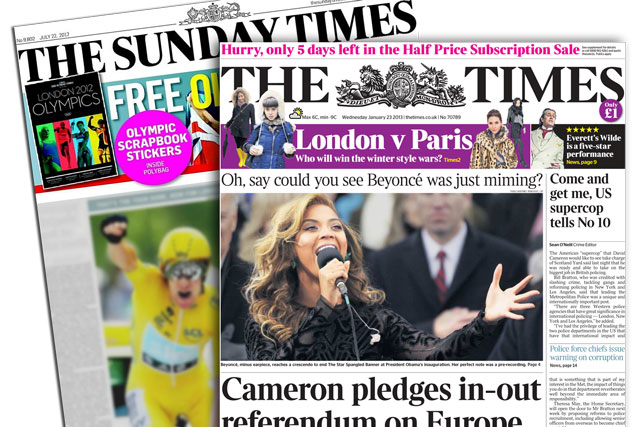 Following the resignation of James Harding in December, John Witherow, long-time editor of the Sunday Times, has been controversially appointed "acting editor" of The Times, raising obvious questions about a possible merger of the two papers into a seven-day operation.
Of course this is a path recently trodden by News International, having turned its other national paper, The Sun, into a seven-day operation only last year. The narrative was unique then, with the News of the World scandal and subsequent closure. But it appears that a Times and Sunday Times merger will be a similarly difficult marriage.
Murdoch signed a legally binding undertaking to keep The Times and Sunday Times separate when he took ownership of the two papers in 1981. Under that agreement any new editor must also have their appointment ratified by an independent Board of Directors yet this has, to date, not been forthcoming leaving Witherow only as acting editor.
A merger would be attractive to News International. Other newspaper groups are moving towards this way of working and the cost-efficiencies achieved are significant in hard economic times for publishers.
But such a move would need a legal change to the 1981 agreements by the Department of Culture, Media and Sport, something which would undoubtedly lead to many column inches of scrutiny. Until such a point Witherow's position is likely to remain in limbo, as an unconfirmed interim appointee.
Ultimately, however, the question is likely to be resolved by financial reality. Whilst the plurality of the press is a keystone worth protecting, would we rather have two unprofitable newspapers, or one operation facing up to economic reality as a viable business for the long-term future?
That at least is the argument Mike Darcey, chief executive of News International, will use and it is given more credence by rumours that the newspapers will be put up for sale; rumors which have spread since the announcement in June last year that News Corp was to split its profitable film and television business from the loss-making newspaper and book publishing assets.
In the short-term, whether John Witherow will officially succeed James Harding as the new editor of The Times will be determined by the independent Board of Directors, but it is Maria Miller, Secretary of State for Media, Culture and Sport, who will likely decide the paper's real future.
This story is far from over.
Mark Jones is press manager at Aegis Media's media agency Carat