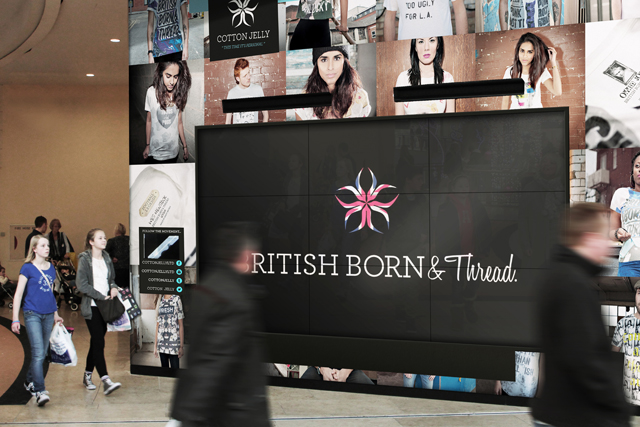 The first brand to be carried on the network is retailer Cotton Jelly, which has the tagline 'British Born and Thread' across its creative execution.
Sites will include an interactive "smart window" that has a transparent multi-touch display, and a back-lit box allowing an advertiser to display its physical retail product alongside its digital advertising content.
Wes Henstock, head of creative, Cotton Jelly, said: "This audience is fully engaged with mobile and social channels and the DSM network gives us a unique opportunity to not only launch the brand to market with real standout, but also to involve and engage these shoppers and create a connection with the clothing."
Following a successful trial at Bluewater in Kent, Limited Space invested £1.6 million into additional placements around the country, in high footfall locations such as Sheffield's Meadowhall, and Lakeside in Essex.
The sites will feature touch and gesture-based technology and mobile phone engagement. Interactive screen content will respond to the brand's social channels in real time.
Romain Greze, managing director of Limited Space Media, said: "Our DSM technology represents the pinnacle in digital out-of-home technology for brands to engage with customers.
"Partnering with a vibrant new brand like Cotton Jelly offers the perfect opportunity for us to both launch our product and the eye-catching content which shoppers engage with as they browse."