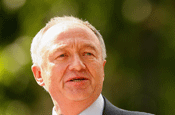 The mayoral communications advisor, Harry Barlow, has approached four agencies as Livingstone bids for a third term in office. Barlow will meet with the undisclosed shops this week to brief them on the pitch procedure.

The search comes as Boris Johnson ratchets up his attempt to become the Conservative candidate in the elections, due to be held 1 May 2008.

It follows last week's appointment of Farm and BLM by the Electoral Commission. The agencies will develop an integrated campaign to boost voting in the London Mayoral election, after last year's local elections managed a turnout of just 36 per cent.