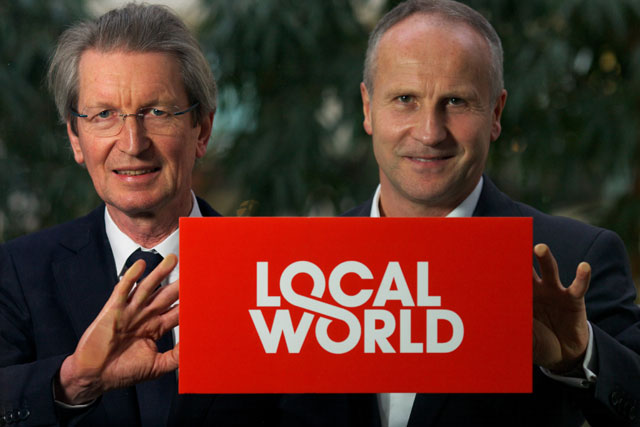 DMGT announced yesterday that it had sold Northcliffe Media to Local World, an entity that will combine the Northcliffe regional titles with those of Iliffe News & Media Limited. Trinity Mirror is also an investor in the new business. The deal is likely to be finalised in early January 2013.
David Montgomery, previously chief executive of the pan-European newspaper group Mecom, will be chairman of the new group.
Auckland has newspapers in his blood, having run free title Metro, the defunct title LondonLite, and Northcliffe Media before it was sold off.
Speaking to Media Week, Auckland said the new business, which will likely be in operation from "early January", was not a cost-cutting exercise, although the merger of Northcliffe's and Iliffe News & Media's operations would result in back-office redundancies.
He said: "You can always take more out of a business. I think when we integrate the two companies there will be back office costs [we can reduce].
As a consequence of cost-cutting and a reorganisation of Northcliffe "75% of managing directors and 50% of editors are newly posted and because of that we've got fresh thinking", he said. "We can't afford to lose people on the frontline. If we're going to lose any staff, it'll be back office rather than frontline troops."
Local World deems digital as one of its core areas for driving revenue, with an earmarked investment of £10m into digital development and training.
Auckland said: "Digital is where the big play is. I believe we've got a nice new model that we can roll out. A lot of that is built on content in each of the areas we publish in and on top of that, building directory services around it.
Although he admitted that the business would look at transforming some of its daily titles into weeklies, he said the development of its digital offering would not come at the expense of print.
"For us," he said, "the key thing is that it should transform regional media. And that's what it's all about. We've got a very lean team – we're not like the big players with debt and pension issues, we're pretty nimble and can move fast."
He acknowledged that the coming together of Northcliffe and Iliffe presaged greater consolidation in the regional market, and he hinted that Local World's mid-term ambitions were acquisitive.
He said: "Our view is that in the first stage we need to integrate the two businesses. Once that transformation is in place and we see the results it will make it more advantageous to look at other companies to work with. Let's get things underway and after that, we can consider consolidation."
Given Auckland's experience with freesheets London Lite and Metro, industry observers could be forgiven for speculating that Local World might adopt the free model on some of its papers.
Auckland admitted: "I've always got an open mind on these things. But free regionals tends not to work. Metro is such a great commuter title, a great disposable product. But regional papers have a lot more value than freesheets and I've found you can't generate the ad revenue." He said that Metro generates so much money because it is in effect a national title.
Finally, asked whether he felt that the advent of local TV would pose an opportunity or a threat to regional papers, he reckoned neither. "Our regional businesses have got to focus and concentrate a bit more. Are we a big believer in [local TV]? No. I don't think it will be a fantastic success."
DMGT has sold the Northcliffe titles – which include the Hull Daily Mail, Leicester Mercury and Bristol Evening Post – for £52.5m in cash, along with a 38.7% stake in the new business.
Local World will house more than 100 local newspapers in all.