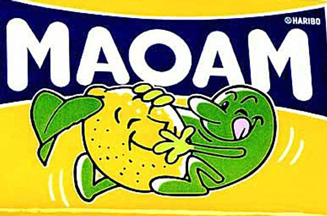 Procter & Gamble's old 'man-in-the-moon' logo
Procter & Gamble originally had a man-in-the-moon face looking at 13 stars, the number of the original British colonies. Starting in the 1980s, P&G was subject to malicious rumours that the symbol was linked to satanism. P&G spent a great deal of time and money protecting its brand and eventually adopted a new logo features just the letters P&G. Japan's Kao patterned its logo after P&G and continues to use a more friendly, man-in-the-moon cartoon face.
Camel cigarettes - naked man
In his 1973 book, 'Subliminal Seduction,' Wilson Bryan Key argued that on the Camel's foreleg is a naked man, standing with an erect penis.
Toblerone - bear
Hidden on the side of the mountain is a standing bear. Hang on there is a bear.
American currency - 9/11 conspiracies
Generations of schoolchildren have known that all sorts of rude images can be made with George Washington's face by folding a dollar bill. More recently conspiracy theorists have found that by folding a $20 bill you can reveal a hidden image of the attack on the World Trade Center. They disregard the little detail that the notes were designed in 1998.
Marlboro - Ku Klux Klan
People with way too much time on their hands claim that there are half a dozen secret references to the KKK on packs of Marlboro cigarettes. The urban myth behind it was that the company's founder was a klansman and left shares in the company to the KKK. Unlikely given that Philip Morris opened a tobacconist in Bond Street in the 1850s and that Marlboro is a British brand, launched in the US in 1902.
Starbucks - mermaid
Starbucks's twin-tailed siren is based on a 16th-century Norse woodcut. Earlier this year an Egyptian Cleric claimed the siren actually represented the ancient Jewish Queen Esther and called on an Arab boycott.