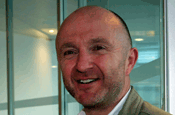 It is understood that Wilmont had a meeting with Enda McCarthy, the agency's chief executive, earlier today.

Wilmont was hired by the former chief executive Nigel Jones, who has since left to join Publicis Group, and Jonathan Harries, the agency's global chief creative director, in June 2007.

Wilmont filled a role at Draftfcb that had been vacant since Andrew Fraser moved to Rapier in April 2007.

Wilmont started his career at BMP DDB in 1982 before setting up Still Price Court Twivy D'Souza in 1986. He then moved to America to join Merkley Newman Harty as its creative director.

Wilmont moved on to be the executive creative director of Kirshenbaum Bond & Partners in New York before returning to the UK to join Naked in 2004 as its creative director.