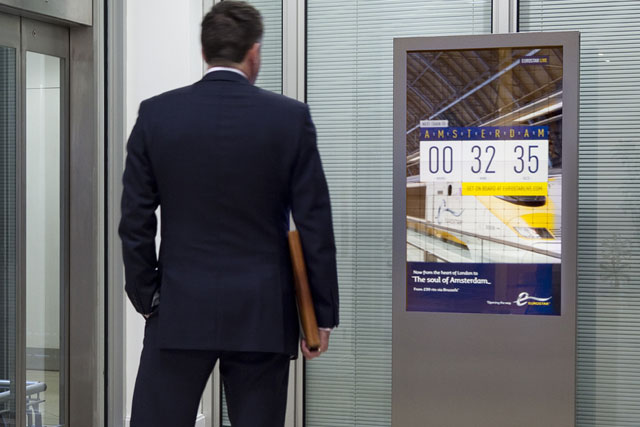 The network aims to deliver a mix of live content and digital full-motion display advertising.
Content is updated in real-time and includes global and national news, financial and sports up-dates, weather and travel information, in addition to localised information relevant to audiences within individual buildings.
The company was founded in 2010 after founder Antony Ceravolo, a co-founder of LoveFilm.com, identified a gap in the UK Outdoor market.
Ceravolo, chief executive officer of ECNlive, said: "I look for business models that are working in other parts of the world and bring them to Europe. That's what we did with LoveFilm when we sold it to Amazon last year. I found that office communication in Asia, Australia and in the US is a big industry."
ECNlive claims that its displays are located within the receptions and lobbies of more than 100 of the largest corporate buildings in London, and reach more than 300,000 business people.
Companies within the network include Citi, UBS, Google, Lloyds TSB, KPMG, Trinity Mirror, Sky, Hewlett Packard, HSBC, Estee Lauder, Coutts, JP MorganChase, Barclays, Yell and Telegraph Media Group.
Brands set to use advertising space on ECNLive are British Airways, IBM, BMW, ITV, Vodafone, American Express, Sony, Westfield, Hugo Boss, Abercrombie & Kent. and Nokia.
In London, ECNlive is situated within landmark buildings such as, Tower 42, CityPoint, The Broadgate Tower and Tower Bridge House.
Ceravolo said that ECNlive was opening up the corporate environment for brands, engaging a valuable and clearly defined business audience through the use of smart technology and live content.
He added that the network offered brands a "pure-play business media option", reaching the upper echelons of major businesses and a broad range of key decision makers across a wide range of industries.
Follow Nick Batten on Twitter @NickBatten2