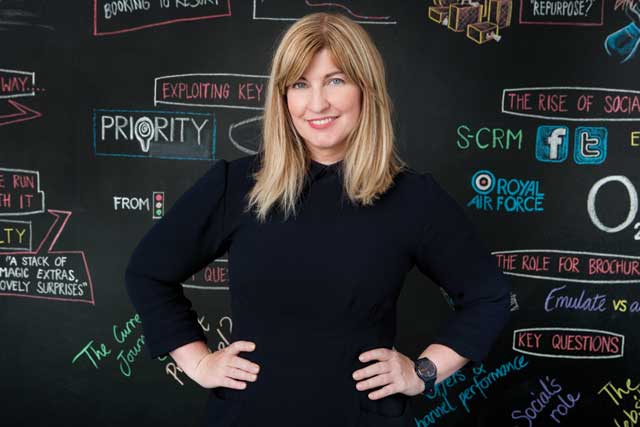 Looking out over a sunny Golden Square from her large and slightly chaotic first-floor office, Elspeth Lynn reflects on the unlikely event that prompted her family to emigrate from London for Canada back in the 70s - it was a flickering, fading image of Jon Pertwee.
"I remember being sat in front of the television when the power went out and Doctor Who disappeared from the screen," she recalls in her strong Canadian accent. "Sick of the constant industrial unrest, my father announced that we were leaving the country."
The 30-year journey back here across the space-time continuum to the UK, and then to the spacious executive creative director's office with the pleasant view, is one that is equally surprising.
It comprises a clutch of art director jobs (of varying lengths of tenure), the creation and then sale of her own ad agency - Zig, which subsequently became Crispin Porter & Bogusky Canada and whose name bears an uncanny resemblance to Bartle Bogle Hegarty's positioning (an agency to which she frequently refers) - before returning to the UK without a job and then a stint at Profero.
Lynn was a surprise choice to fill the chair made vacant by Graham Fink's departure to Ogilvy & Mather China some 13 months earlier. Rather than choose one of the several high-profile ECD names that were on the market at that time, M&C Saatchi picked a relative unknown - at least to those outside the digital creative sphere (and Canada). Her remit was also broader than that of her predecessor, comprising responsibilities across the entire M&C Saatchi group.
It was the headhunter Grace Blue that put the two parties together - and the timing proved to be excellent for Lynn as she admits to having acquired a pair of itchy feet at Profero. "I felt like I was at the back end of the process. I was frustrated by that and missed being up front," she says.
Nonetheless, she was aware that her subsequent hiring was one that would startle - albeit briefly - the industry. She admits: "I thought: 'What are people going to think of a Canadian doing the M&C job?'" But it wasn't her nationality that was the shock - it was that any domestic fame she had was in the digital sphere.
Now that the dust has settled, the industry is curious what Lynn brings to the job and how she will attempt to do what looks impossible by managing the creative process across a business that includes sports, entertainment, PR and mobile, as well as the more traditional advertising disciplines.
Sadly, she's too diplomatic - or well-briefed - to say anything disparaging about the quality of M&C's patchy performance to date, even though she is candid enough to drop a few F-bombs about things that excite her. But what she doesn't say is as revealing as what she does. "M&C has always done brilliant print ads, but you can't survive on that alone. It does wonderful intellectual advertising but needs to do popular advertising that people love," she says.
She is also firmly of the view that the M&C group's breadth of offering is the right corporate structure: "It has been built for the future. It's about expanding great thinking and seeing how it can be moved into other spaces."
While details on how the integration and expansion of the creative process will work are disappointingly scant (and, in fairness, she is less than two months into the role), she claims the initial focus is on the advertising agency. When this is accomplished, she explains, she will then look at the wider group. But she adds that her background in digital will hold her in good stead as she looks at what she sees as all aspects that advertising can impact upon on the customer journey: "It was Lars Bastholm (the chief creative officer at Cheil USA) who triggered me into learning about digital when he said: 'If your skill is storytelling, then learn digital; and if it's digital, learn storytelling.'"
Lynn has, however, already given the agency a list of ten observations about its creative department (but isn't keen on sharing them as she says she is still taking stock). Her primary observation seems to be that the team needs to feel inspired and listened to. "I want to make sure that they receive as much as they are giving. Too many agencies don't care, so I'm listening to what people want to do," she points out. "There's a whole bunch of people who are ready to be better - they just need a little inspiration."
Lynn certainly has the warmth and charm to be inspiring to her creative department - and we'll find out soon enough if this touchy-feeliness will contribute towards an improved creative product.
As to whether the art director turned entrepreneur turned wandering soul turned digital ECD has found her home, she says her agency-hopping days are over. For now, then, there will be no Doctor Who-style ECD regeneration scenes at Golden Square.
Lynn's journey
1993-94: Art director, McLaren McCann, Canada
1994-95: Art director, Roche Macaulay & Partners
1995-98: Art director and vice-president, Leo Burnett
1998-99: Art director and vice-president, Ammirati Puris Lintas
1999-2008: Co-founder, Zig
2009-May 2012: Executive creative director, Profero London
June 2012-present: Group executive creative director, M&C Saatchi