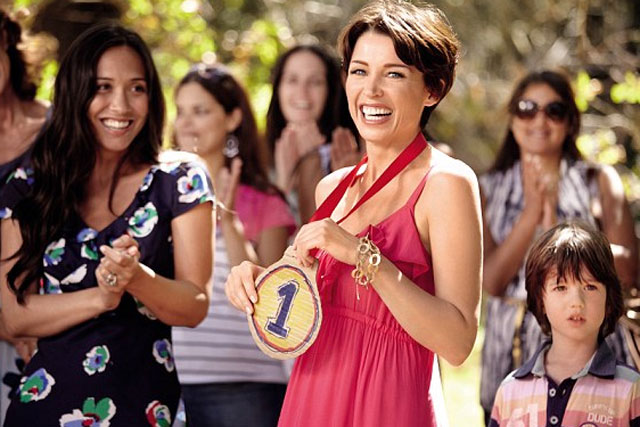 The retailer's like-for-like sales in the UK increased by 0.3% for the year ending 31 March after 2.1% growth in food and a 1.8% dip in general merchandise.
Overall revenues were up 2% to £9.9bn but profits declined.
Profits before tax were down to £658.0m, compared to £780.6m in the previous financial year while underlying profit before tax was down to £705.9m from £714.3m.
The retailer is banking on a good summer and believes its 2012 summer advertising is "perfectly capturing the nation's celebratory mood" and "highlights our position as the UK's most trusted retailer".
But it warned its revenue growth would not match its previous expectations as the economic recovery stutters.
The statement said: "In November 2010 we set out a target to grow our revenues by £1.5bn to £2.5bn over the next three years.
"As a result of the deterioration in the economic environment since we set out our plan, we now expect to achieve £1.1bn to £1.7bn increase in revenues."
Marks & Spencer has reported strong performances across lingerie, menswear and kidswear, but had a "mixed" performance in womenswear and home, with the retailer claiming the latter was impacted by its exit from the technology market.
It has admitted its offer in its Good tier of clothing was not strong enough and added that it was impacted by merchandising issues in the last quarter of the year.
The retailer is now taking action to strengthen its merchandising and design teams and review its buying and merchandising processes.
In order to bolster its general merchandise offering the retailer has launched a "shwopping" ad campaign fronted by Joanna Lumley, which is encouraging consumers to recycle old clothes when buying new clothes.
Marc Bolland, chief executive, said: "Marks & Spencer performed well in a challenging economic environment, growing group sales by 2% and holding market share. We also made good progress with our strategic plans.

"Our UK pilot stores are delivering good results, which has given us the confidence to launch phase two of the programme. We are well on track to become a truly international multi-channel retailer."
M&S is overhauling its stores in order to make navigation easier and segment them through the clothing sub brands, which it began advertising as stand alone brands for the first time last year.
The retailer has reported its pilot stores are delivering 2.5% sales uplift, while it has seen its mobile site experience a 300% growth in visits contributing to an 18% increase in multi-channel sales.
Follow Matthew Chapman at @mattchapmanUK