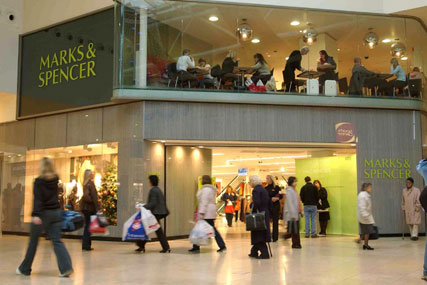 Overall sales rose by 5.4%, but Bolland, who took over from Sir Stuart Rose in May, wants growth to accelerate. His target is for sales to increase by one-third in three years, before pushing the brand abroad in the following three years.
Bolland will introduce new "Only at M&S" branding, which "better communicates the extraordinary lengths to which we go to deliver innovative 'M&S only' products", according to the statement to the City this morning. The Portfolio clothing brand will be dropped.
Full-year revenue to April 2010 was £9.5bn. Bolland wants this to increase to "between £11.5bn and £12.5bn by 2013/14."
Continuing his "evolution not revolution" mantra, he said he would: "Begin by focusing on the core UK business.
"For our customers, this means that in clothing we will improve our core M&S ranges, so that the unique quality, style and fashion of the M&S brand stand out. We will also clarify the position of our sub-brands, moving them from labels to real brands.
"In food, we will establish a clear market position as a specialist high-quality retailer, inspiring customers with our unrivalled quality and innovation. Our focus will be on fresh, speciality and convenience, bringing the Best of British and Flavours of the World to our customers.
"Over the first three years we will also build our multi-channel and international capability. This will develop M&S into an international multi-channel retailer, making the M&S brand more accessible to more customers around the world."
A new website will be rolled out in late 2013, when the current partnership with Amazon expires.
Bolland backed up the rhetoric with some numbers.
He wants Marks & Spencer to deliver revenues of between £11.5bn and £12.5bn by 2013/14, with the UK business delivering £1bn to £1.5bn of new revenue, and expanding online and international retailing to deliver between £800m and £1bn from both multichannel platforms and international sales by the same date.
In the first six months of 2010, all areas of the business grew, with general merchandise growing by 6.3%; and food by 2.6%.
Bolland said: "In clothing, we grew market share in all areas as we gave our customers better fashions, more choice and great value. In food, more customers chose to shop with us, recognising our quality, innovation, and improved values."
The UK business grew by 5.6%, and the international business by 3.8%
"The business is in good shape and we have strong foundations on which to build through evolution, not revolution," he said.