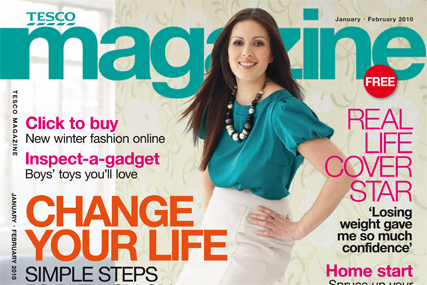 Sky Magazine, the title distributed to all subscribers of the satellite broadcaster, continues to lead the pack, with an average distribution of 7,423,570, down 1.6% on the first half of 2009, but up 2.8% year on year.
Tesco magazine has resumed being the fourth biggest circulating magazine with 2,055,391, behind Sky's two other magazines – Sky Sports (4,127,025) and Sky Movies (3,387,788).

Daniel Davey, Tesco director of account management at Cedar Communications, pointed to improved distribution processes that have helped boost circulation figures.
He said: "With greater in store adherence reducing waste and increasing the magazine's prominence on the shop floor, more of our customers are able to enjoy Tesco Magazine."
Separately, Davey also noted how the magazine had successfully changed its emphasis in response to the changing economic climate. As shoppers have become increasingly time-poor and frugal, the title has taken up a more practical approach to feeding a family on a budget.
Also among the most widely distributed magazines in the country are equivalent titles for Asda (1,859,697) and Sainsbury's (1,499,244).
Julia Hutchison, chief operating officer of the customer magazine association APA, said: "Customer publishing has once again shown itself to be the most robust of marketing tools and, indeed, magazine genre."

She added: "These latest results are a true representation of the buoyancy of this medium. Brands are continuing to invest in editorialised branded content, as it delivers valuable engagement, which, in turn, bolsters loyalty and boosts sales."
Top ten customer publishing magazines
Title
Jul-Dec 09
Prd/prd change
Yr/yr change
1
Sky Magazine
7,423,570
-1.6%
2.8%
2
Sky Sports Magazine
4,127,025
-1.7%
-3.3%
3
Sky Movies Magazine
3,387,788
-3.4%
-3.5%
4
Tesco Magazine
2,055,391
2.9%
1.9%
5
Asda Magazine
1,859,697
-26.3%
-36.4%
6
The National Trust Magazine
1,801,654
N/A
2.8%
7
Sainsbury's Fresh Ideas
1,499,244
0.0%
0.4%
8
Morrisons Magazine
974,431
4.3%
N/A
9
Sense Magazine
845,795
2.9%
11.6%
10
Birds
622,322
-0.5%
-0.9%