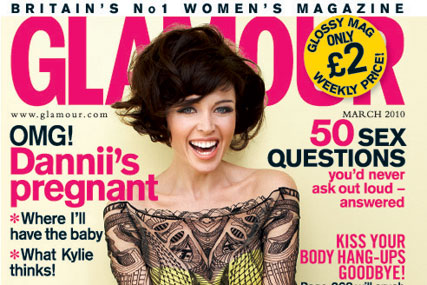 The handbag-sized Condé Nast title sold 515,281 copies and also saw a slight dip in circulation for the period of 2.1%.

New entry in the women's lifestyle market, Shortlist's free weekly Stylist (launched on 7 October last year) became the fifth highest circulating title, with an average issue circulation of 410,674 in its first ABC figure. The figure is higher than Stylist's forecast circulation figure of 400,000.

NatMag's Cosmopolitan, the second best-selling title, took a hit in sales, seeing a drop of 4.5% year on year to sell 430,353, for the period July to December 2009.

Good Housekeeping saw 4.9% rise on the period and 1.1% increase on the year, shifting 430,089 copies, just behind its sister title.

The biggest riser in the women's monthlies sector was IPC's Essentials magazine, which achieved a 9.7% rise on the period and a 13.9% rise on the year to 112,135 copies.

IPC's biggest selling title in the sector, Woman & Home, which targets women in their forties, put in a positive performance with a 4.3% yearly rise and up 5.2% on the period to sell 368,388 copies.

Marie Claire, the IPC title which was relaunched last summer under new editor Trish Halpin, was the biggest faller year on year with a 9.9% drop. However, over the period it was down just 0.8% to 283,025 copies.
NatMag's She was also down badly year on year – 9.1% – but managed a 0.8% increase on the period to 150,074 copies.
Bauer Media's weekly glossy Grazia saw a slight rise year on year of 1.1% to 229,732. Sister title More! continued to boost its sales, with a 6.4% rise on the year to 192,860.

Hachette's Psychologies magazine, where Louise Chunn took over in November from launch editor Maureen Rice, was unchanged over six months but recorded a yearly drop of 6.8% to 130,860.
Condé Nast's Easy Living turned in a circulation of 170,033, which was down 8.1% year on year and down 5.6% period on period.
Hachette's Red was flat on the year and saw a 3.6% rise on the period to 226,502.
Condé Nast fashion title Vogue, though flat on the period, recorded a 4.5% dip year on year to 210,526. Rival NatMag's Harper's Bazaar saw a 1.1% rise on the year, selling 110,638 copies.
Vanessa Clifford, managing partner at Mindshare, said: "There is nothing too depressing in the results and the market looks like its showing a little more stability. But there has been a reasonable amount of price promotion and looking behind the figures is becoming more and more important."

Simon Kippin, publishing director of Glamour, said: "There is no doubt that the last six months of 2009 continued to be a challenge on the high street. The recession has had an effect on most businesses, but we are delighted that Glamour has demonstrated resilience, only showing a marginal decline in overall circulation period on period."

Kippen said: "Glamour strongly remains the number one bestseller in the UK without relying on heavily discounted bargain pack promotions with two more discounted copies that other publishers have indulged in."
* In this sector Vanity Fair had 79.3% of copies actively purchased, Harpers Bazaar at 65.8% and Tatler had 62.8%.
Top 25 Women's Lifestyle Magazines
Title
Publisher
Jul-Dec 09
Prd/prd Change
Yr/yr Change
1
Glamour
Conde Nast Publications Ltd
515,281
-2.1%
-5.9%
2
ASOS.com
Asos.com
449,971
-3.7%
0.6%
3
Cosmopolitan
The National Magazine Company Ltd
430,353
-2.6%
-4.5%
4
Good Housekeeping
The National Magazine Company Ltd
430,089
4.9%
1.1%
5
Stylist
Shortlist Media Ltd
410,674
N/A
N/A
6
Woman & Home
IPC Media Ltd
368,388
5.2%
4.3%
7
Look
Evarn Ltd
313,013
-0.8%
-0.4%
8
Prima
The National Magazine Company Ltd
288,301
5.2%
1.5%
9
Yours
Bauer Consumer Media
284,560
-5.5%
-7.3%
10
Marie Claire
European Magazines Limited
283,025
-0.8%
-9.9%
11
Candis
Newhall Publications Ltd
263,754
-3.1%
-7.8%
12
Company
The National Magazine Company Ltd
240,035
4.3%
-0.1%
13
Grazia
Bauer Consumer Media
229,732
0.5%
1.1%
14
Red
Hachette Filipacchi (UK) Ltd
226,502
3.6%
0.5%
15
Vogue
Conde Nast Publications Ltd
210,526
0.0%
-4.5%
16
Elle (U.K.)
Hachette Filipacchi (UK) Ltd
195,455
0.1%
0.2%
17
More!
Bauer Consumer Media
192,860
1.1%
6.4%
18
Instyle UK
IPC Media Ltd
184,141
0.6%
1.7%
19
Easy Living
Conde Nast Publications Ltd
170,033
-5.6%
-8.1%
20
She
The National Magazine Company Ltd
150,074
0.8%
-9.1%
21
Psychologies Magazine
Hachette Filipacchi (UK) Ltd
130,860
0.2%
-6.8%
22
Essentials
IPC Media Ltd
112,135
9.7%
13.9%
23
Harpers Bazaar
The National Magazine Company Ltd
110,638
0.9%
1.1%
24
Vanity Fair
Conde Nast Publications Ltd
102,421
0.7%
1.2%
25
Tatler
Conde Nast Publications Ltd
86,345
1.5%
0.3%