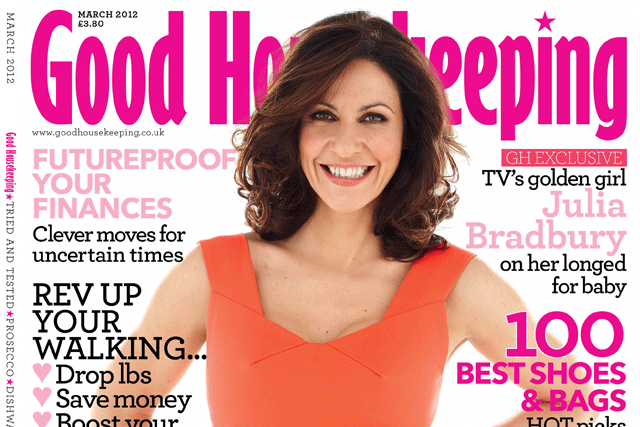 The latest Audit Bureau of Circulations (ABC) report reveals that Glamour remains the marker leader with an average circulation of 466, 327 in the six months to the end of December 2011, down 6.8% on the year.
But Hearst monthly Good Housekeeping is catching up fast – up 1% on the year to 448,129, powered by a near 10% rise in subscriptions.
Good Housekeeping, priced at £3.80, lured in some readers with multipack offerings, which included sister titles Prima and House Beautiful, during the period.
Publishing executives of some of the household names in the sector, such as Cosmopolitan, Marie Claire and Vanity Fair, will be pleased their titles held up well, against a difficult economic backdrop when arguably monthly magazines can be viewed as a luxury.
ShortList Media's Stylist magazine retained third spot – its distribution was up 1.2% on the year to 429,134 copies.
Hearst sister title Cosmopolitan, though, has had a difficult magazine period, losing circulation and with it fourth spot to IPC's Woman & Home title.
Cosmopolitan reported a circulation of 377,580, down 5.7% on the year, while Women & Home came in at 379,896, eclipsing Cosmopolitan's circulation by nearly 2,000.
Marie Claire was one of a number of monthly titles that were up year on year, nudging its circulation up 0.7% on the year to 266,881.
But Marie Claire's circulation was helped by giving away 21,800 copies in the period.
Jackie Newcombe, managing director of IPC Southbank, said giving away free copies was a legitimate sampling exercise.
She also pointed to the period-on-period performance of Marie Claire, up 6.4%, which she said had been driven by editorial changes at the magazine, including upping its fashion coverage.
In addition, she said, the recently launch of Marie Claire brand offshoot, Marie Claire Runway, would help the circulation of the monthly title.
All four of the IPC titles in the sector-Marie Claire, Woman & Home, Instyle UK, Essentials- reported period-on-period increases-an achievement that neither rival publishers Hearst and Conde Nast can point to.
Bauer Consumer Media's Grazia was down 8.4% on the year to 205, 487.
Abby Carvasso, Bauer Consumer Media's managing director of lifestyle & advertising, said that Grazia was attracting more premium advertisers than its weekly rivals.
She said that high-end brands such as Dolce & Gabbana and Armani were advertising in Grazia, and not in other rival women's lifestyle weeklies.
Carvosso said the next issue of Grazia was supported by a record 127 pages of advertising in the magazine.
Hearst's Prima and Red were up year on year, as was IPC's Essentials. Red's circulation nudged up just 0.1% to 231,160 – it also gave away 6,517 copies during the six-month period.

Vogue and Vanity Fair- two of the jewells in the Conde Nast stable-were stable on the year, with respective average circulations of 210,806 and 102,585.
Follow John Reynolds on Twitter @johnreynolds10
Top women's lifestyle magazines
Title
Publisher
Dec end
Prd/prd
Yr/yr
2011
change
change
Glamour
Conde Nast Publications
466,327
-12.0%
-6.8%
Good Housekeeping
Hearst Magazines
448,129
4.0%
1.0%
Stylist
Shortlist Media
429,034
0.6%
1.2%
Woman & Home
IPC Media
379,896
2.6%
-1.5%
Cosmopolitan
Hearst Magazines
377,580
-2.4%
-5.7%
Yours
Bauer Consumer Media
282,892
-1.0%
-3.5%
Prima
Hearst Magazines
281,636
0.5%
4.9%
Look
Evarn
280,481
-6.6%
-9.9%
Marie Claire
European Magazines
266,881
6.4%
0.7%
Red
Hearst Magazines
231,180
0%
0.1%
Candis
Newhall Publications
224,468
-4.9%
-9.5%
Vogue
Conde Nast Publications
210,806
0%
-0.2%
Grazia
Bauer Consumer Media
205,487
-6.5%
-8.4%
Elle (U.K.)
Hearst Magazines
195,020
-1.1%
-2.7%
Company
Hearst Magazines
188,278
4.5%
-13.4%
Instyle UK
IPC Media
176,002
0.5%
-2.5%
More!
Bauer Consumer Media
152,571
-10.3%
-19%
Easy Living
Conde Nast Publications
140,123
-11.3%
-12.5%
Essentials
IPC Media
128,906
1.6%
2.0%
Harpers Bazaar
Hearst Magazines
120,004
1.1%
0.2%
Psychologies Magazine
Hearst Magazines
104,491
-3.8%
-13.0%
Vanity Fair
Conde Nast Publications
102,585
2.0%
0.1%
Tatler
Conde Nast Publications
88,020
0.5%
0.9%