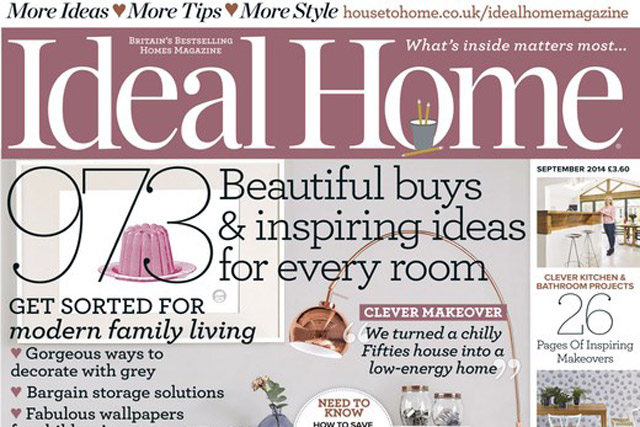 According to the Audit Bureau of Circulations report, Ideal Home maintained its position as the biggest magazine in the sector with an average combined print and digital circulation of 196,505, up 1.8 per cent year on year.
Style at Home, which was the only home interests title to report a double-digit increase in the final six months of 2013, had a combined circulation of 107,590 in the first half of 2014, up 9.9 per cent year on year.
The magazine, which has a more affordable positioning than some of its rivals, was also the only home interests title to increase its print circulation year on year (up 10.9 per cent to 106,406).
Living etc, which is a more modern title, had an average combined circulation of 95,877 between January and June 2014, up 1.2 per cent year on year.
Yvonne Ramsden, the publishing director of IPC's home titles, said: "IPC's homes portfolio is second to none. Our investment in quality editorial means our titles–and market-leading website housetohome.co.uk – are the first choice for interiors fans whose homes are constantly evolving and an expression of their personal style."
Hearst Magazines UK's Country Living reported the biggest drop in the sector, down 5.8 per cent to an average combined circulation of 178,900, followed by its sister title, House Beautiful, which was down 5.6 per cent to 111,679.
House Beautiful also reported the steepest year-on-year decline in print circulation, down 8.2 per cent to 110,669.
Heart's Elle Decoration fared better and maintained its overall circulation to 71,475, up 0.2 per cent year on year. However, Elle Decoration's print circulation of 65,592 represented a 7.7 per cent fall year on year.
| | | | | | | | | |
| --- | --- | --- | --- | --- | --- | --- | --- | --- |
| Magazine | Combined Total Average Circulation | Combined Total Prior Period Change | Print Total Average Circulation | Print Total Prior Period Change | Print Total Prior Year Change | Digital Total Average Circulation | Digital Total Prior Period Change | Digital Total Prior Year Change |
| 25 Beautiful Homes | 97,611 | -3.89% | 96,584 | -4.04% | -3.92% | 1,027 | 11.75% | 19.14% |
| Country Homes and Interiors | 92,779 | -3.18% | 91,098 | -3.69% | -1.47% | 1,681 | 36.11% | 97.07% |
| Country Living | 178,900 | -5.84% | 176,397 | -5.85% | -4.64% | 2,503 | -5.33% | -22.44% |
| Elle Decoration | 71,475 | 0.15% | 65,592 | -0.11% | -7.65% | 5,883 | 3.07% | -9.27% |
| Grand Designs | 32,592 | -3.91% | 28,769 | -5.50% | -5.50% | 3,823 | 10.01% | 31.69% |
| Homes and Gardens | 116,729 | -4.50% | 114,895 | -4.66% | -4.57% | 1,834 | 6.69% | 36.05% |
| House and Garden | 117,083 | -2.44% | 115,170 | -2.37% | -5.39% | 1,913 | -6.41% | -16.86% |
| House Beautiful | 111,679 | -5.59% | 110,669 | -5.46% | -8.23% | 1,010 | -17.55% | -21.83% |
| Ideal Home | 196,505 | 1.76% | 194,689 | 1.83% | -1.71% | 1,816 | -4.62% | 47.40% |
| Living etc | 95,877 | 1.21% | 92,224 | 0.73% | -2.74% | 3,653 | 15.02% | 33.81% |
| Style at Home | 107,590 | 9.91% | 106,406 | 9.85% | 10.94% | 1,184 | 15.74% | 85.58% |
| World Of Interiors | 58,064 | 0.10% | 56,628 | 0.22% | -6.27% | 1,436 | -4.46% | -9.63% |
| Your Home | 124,590 | 1.38% | 123,693 | 1.17% | -3.91% | 897 | 42.38% | |