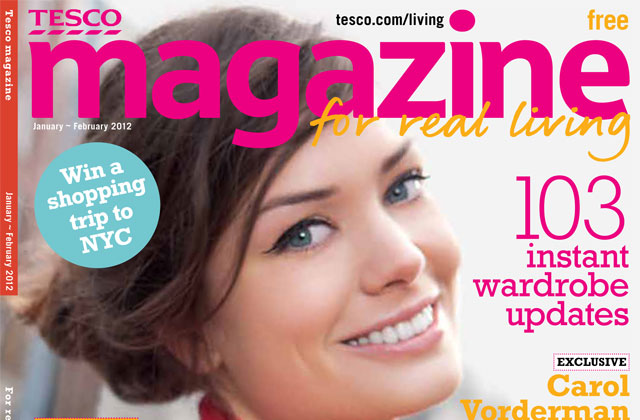 On an annual basis, the magazines included within this auditing period have a combined total circulation of 1.2 billion, which equates to 3.3m magazines being distributed every day or 2,320 every minute.
There were some relative strong performers for the six-month period from July to December 2011, with Immediate Media's Radio Times defying the general malaise to report a weekly circulation in excess of 925,000 in its first audit since being sold by the BBC.

Bauer Media's Closer magazine and Hearst's Good Housekeeping also enjoyed a stronger end to the year, as did Mike Soutar's free weeklies Shortlist and Stylist.

In general though, print declines continue to define the industry, with notable double-digit falls for Conde Nast's Glamour and Northern & Shell's OK! and Star magazines.

Even with growth of 9.5% period on period for customer publishers – which dominate the top 10 with magazines for Tesco, Asda, The National Trust Magazine, Morrisons and Saga - net circulation of the top 100 magazine was still down on the same period the previous year (-1.4%).

However, it is not just decline but transition that grips the UK's magazine industry. This is the first audit period since Apple launched its Newsstand platform in October 2011.
Despite being early days, its arrival, along with other digital distribution platforms like Yahoo's Livestand, has been widely welcomed for potentially opening up new audiences by publishers.
Some of the sales for such digital editions are included in today's figures, as long as the editorial content is essentially the same as the print edition (5% difference). Among the best sellers of digital editions are Future's T3 (7.779), Conde's GQ (5,731), Hearst's Cosmopolitan (5,675) and Dennis Publishing's Men's Fitness (3,987).
Barry McIlheney, chief executive of the PPA, said: "Magazines yet again demonstrate their worth in the eyes of consumers and advertisers in this latest set of circulation figures from ABC."
"In keeping with the rest of the industry, reporting standards are constantly changing. The ability to report digital edition figures alongside print circulation has been a step forward for publishers, and we will see further progress later this year when publishers can report on the Multi-Platform Certificate, launched at the end of 2011."
Arnaud de Puyfontaine, chief executive of Hearst Magazines UK, who benefitted from a near $1 billion aquisition of Lagardere's titles in the last year, agrees.

He said: "Hearst Magazines UK is one of the most diverse and agile media companies in Britain today. We are committed to ensuring our consumers are able to access our content on the platform of their choice, in the format of their choice at their convenience – whether it's through print, websites, mobile, apps or digital editions."


Top 100 magazines (inc. customer publishing and free titles)
Title
Dec end 2011
Prd/prd
Yr/yr
Tesco Magazine
2,018,375
4.7%
1.7%
Asda Magazine
1,949,451
-1.6%
-18.1%
The National Trust Magazine
1,948,384
N/A
3.5%
TV Choice
1,304,382
-3.7%
-4.3%
What's on TV
1,253,697
-1.6%
-0.3%
Tesco Real Food
1,220,503
0.3%
4.4%
Morrisons Magazine
1,150,937
1.2%
3.0%
Radio Times
925,373
2.7%
-3.7%
Take a Break
791,001
-1.6%
-5.1%
Saga Magazine
631,530
2.3%
0.8%
Birds
608,851
-0.6%
-1.2%
Pet People
531,387
N/A
-1.3%
Shortlist
526,359
0.5%
0.9%
New!
510,758
-1.0%
-9.2%
John Lewis Edition
484,991
2.2%
0.0%
Closer
467,048
1.6%
-6.3%
Glamour
466,327
-12.0%
-6.8%
ASOS.com
456,450
1.0%
1.1%
Good Housekeeping
448,129
4.0%
1.0%
Stylist
429,034
0.6%
1.2%
Slimming World Magazine
402,399
15.1%
19.7%
electric!
400,000
0.0%
N/A
Emma's Diary Pregnancy Guide
392,345
-1.1%
2.5%
OK! Magazine
388,472
-17.9%
-13.9%
Reader's Digest
383,650
-13.1%
-11.5%
Woman & Home
379,896
2.6%
-1.5%
Cosmopolitan
377,580
-2.4%
-5.7%
The Caravan Club Magazine
376,890
N/A
-2.5%
Chat
374,730
-4.3%
-9.7%
HELLO!
373,226
-9.7%
-8.0%
Star
359,583
-11.4%
-16.4%
BMW Magazine UK
354,456
N/A
2.7%
Waitrose Kitchen
354,018
2.1%
2.1%
Benhealth
353,037
0.5%
0.8%
The Garden
352,461
2.3%
4.0%
Woman's Weekly
342,532
0.7%
-0.4%
Time Magazine - EMEA (excluding BI/SA)
327,279
N/A
-0.6%
That's Life
326,481
1.6%
-2.8%
Heat
325,370
-0.4%
-12.1%
Legion
314,263
N/A
-6.8%
Heritage Today
313,355
N/A
6.1%
BBC Good Food
313,009
6.2%
-5.8%
Sport
304,700
-0.5%
-0.6%
National Geographic Magazine
302,108
-0.9%
-1.8%
Village Life
300,000
N/A
0.0%
TV Times
294,765
1.5%
-4.8%
Yours
282,892
-1.0%
-3.5%
Woman
282,189
-1.6%
-8.9%
CSMA Club Magazine
282,005
N/A
-3.4%
Prima
281,636
0.5%
4.9%
Look
280,481
-6.6%
-9.9%
Reveal
278,642
-10.5%
-14.2%
Best
277,238
-1.1%
-5.8%
Camping and Caravanning
266,984
N/A
4.2%
Marie Claire
266,881
6.4%
0.7%
Sainsbury's Magazine
264,101
3.5%
-12.0%
Now
262,275
-15.2%
-22.5%
Peoples Friend
257,348
-4.1%
-9.0%
Pick Me Up
243,028
-7.1%
-15.3%
The Economist - Continental Europe Edition
241,726
0.3%
0.4%
Woman's Own
240,347
-2.2%
-17.6%
Bella
234,646
-2.1%
-4.3%
Red
231,180
0.0%
0.1%
Private Eye
228,112
10.6%
10.1%
Candis
224,468
-4.9%
-9.5%
Men's Health
221,176
1.3%
-10.1%
BBC Gardeners' World
216,620
-18.4%
2.0%
All About Health Magazine
215,000
N/A
N/A
Vogue
210,806
0.0%
-0.2%
The Economist - United Kingdom Edition
210,384
0.0%
0.1%
WI life
209,498
N/A
2.0%
Grazia
205,487
-6.5%
-8.4%
Real People
204,337
-2.2%
-6.4%
Love It!
200,027
-5.7%
-17.5%
Ideal Home
195,442
-5.0%
-3.7%
Elle (U.K.)
195,020
-1.1%
-2.7%
Country Living
191,599
-7.0%
-6.9%
Company
188,278
4.5%
-13.4%
The Week
187,536
2.1%
3.9%
Newsweek - Europe Edition
185,015
N/A
0.4%
Weightwatchers Magazine
183,568
-8.2%
-9.8%
BBC Top Gear Magazine
180,208
-5.4%
-5.9%
Scotland in Trust
179,970
N/A
0.2%
Odeon Magazine
179,840
-3.7%
-3.4%
High Life
177,258
-2.4%
-4.7%
Instyle UK
176,002
0.5%
-2.5%
TV & Satellite Week
173,474
-1.9%
-4.2%
Oxford Today
172,526
N/A
-1.8%
Full House
172,015
2.2%
-1.1%
Empire
167,056
-2.3%
-3.2%
Moshi Monsters Magazine
162,838
N/A
N/A
Inside Soap
157,413
-4.6%
-10.1%
More!
152,571
-10.3%
-19.0%
Puzzler Collection
150,477
N/A
-6.7%
TV Easy
150,405
-7.2%
-11.0%
Ikea Family Live
150,000
0.0%
0.0%
The Economist - Asia Pacific Edition
146,531
0.4%
2.2%
FHM
140,716
-9.5%
-20.6%
Easy Living
140,123
-11.3%
-12.5%
Homes & Gardens
138,868
0.8%
1.1%