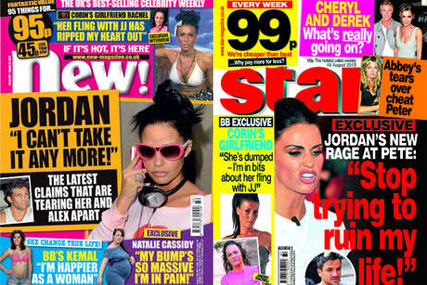 In a sector known for its volatility, Audit Bureau of Circulation figures showed OK! sold an average of 478,878 copies per issue between January and June this year, compared with 599,847 for the same period in 2009.
Over the 26-week period, Northern & Shell has been "multipacking" OK! extensively. As many as 18 issues in this period were bagged with the two other titles. While this provided a boon to the circulation figures for New! and Star, sales of OK! have not enjoyed similar boosts this time around.
The ABC figure for New! was up by 44% on last year's, but down by 5% when compared with the latter half of 2009. It sells an average of 577,899 copies an issue, making it the biggest celebrity title in the country.
Star's circulation is up by 39% on the same period in 2009 but down by over 10% compared with the latter half of 2009 to sell an average of 417,163 copies per issue.
A spokesperson for Northern & Shell said: "Our celebrity titles as a group, OK!, New! and Star, saw circulation rise by 13.6%, which is a very positive figure for advertisers."
OK!'s big rival Hello! managed a small year-on-year increase in circulation, up by 3.7% to 412,195.
It relied significantly less on multipacking and cover discounts than OK!, but figures issued by Hello! show that price-led strategies paid off with bigger circulations for discounted editions, although the wedding of Eamonn Holmes provided it with a surprise boost in sales.
Hello! magazine publisher Charlotte Stockting said: "This sector is more price sensitive than at any other period I can think of."
Backing up that argument is Now magazine's 14% fall in sales since December to 338,080 – it added 10p to its cover price during a time when other magazines were discounting.
Fiona Dent, managing director of IPC's Now magazine, said a redesign of the magazine towards the end of the reporting period was already having a positive effect on sales.
Dent said: "We see the long term strategy for growth as getting closer to consumers and understanding the editorial drivers for your brand."
Closer magazine, one of Bauer's celebrity titles, held its circulation steady, with only a 0.7% fall over the year to sell an average of 526,713 copies per issue. Heat was hit harder, down by 6.3% over the year to 417,163, but it has recently had a redesign, with more focus on celebrity fashion.
NatMag's celebrity weekly Reveal saw circulation improve by 5.2% over the year, selling an average of 332,212 copies each week, compared with 315,660 for the same period in 2009, under the editorship of Jane Ennis and with a long-running television ad campaign.
Although Northern & Shell's strategy is no longer delivering circulation growth for OK!, Stockting said that does not mean there is an end in sight to the practise of multipacking.
She said: "As long as media agencies are focusing on cost-per-thousand rather than the quality of readers being delivered then they are forcing publishers along the road of discounting and multipacking."
Sophie Wybrew-Bond, deputy managing director of Closer magazine, said that although multipacking has its place, particularly as a form of sampling, research shows it needs to be done carefully.
She said: "Readers like multipacking if you give them a substantially different product but if you just give them another version of the magazine they've bought, it can irritate them."
Drew Kirkland, group publishing director at NatMag, says multipacking, which has been standard at the company for well over 12 months, does lead to more individual sales.

"Where I'm seeing the benefit is on a title like Real People, where I don't have a huge marketing budget. The value of full-price copy sales is increasing and we are getting organic growth," he says.


The Top 8 Celebrity Magazines
Title
Publisher
Jan-Jun 2010
Prd/prd change
Yr/yr change
1
New!
Northern & Shell
577,899
-3.8%
44.4%
2
Closer
Bauer Media
526,713
-2.3%
-0.7%
3
OK! Magazine
Northern & Shell
478,878
-18.6%
-20.2%
4
Star
Northern & Shell
440,862
-10.4%
38.7%
5
Heat
Bauer Media
417,163
-9.1%
-6.3%
6
Hello!
Hello! Ltd
412,195
0.8%
3.7%
7
Now
IPC
338,080
-14.2%
-12.0%
8
Reveal
NatMag
332,212
0.4%
5.2%