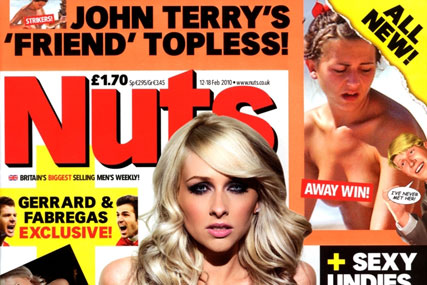 The men's lifestyle sector, across weeklies and monthlies, continues to be blighted by big falls in circulations, as young men desert established titles such as Bauer's FHM and IPC's Loaded.
The sector is dominated by free titles ShortList and Sport, which boasted respective distributions of 513,148 and 306,435 copies. The former was up 1.4% year on year and the latter down 3.4%.
Mike Soutar, chief executive of parent company ShortList Media, attributed ShortList's performance to editorial quality and its distribution network, adding that the free title was planning to add two new cities this year to its 11 city-strong distribution.
Today's ABC figures reveal that in the paid-for market, FHM continued to lose ground on the NatMag title Men's Health, which was the top-selling title for the second period in a row.
Men's Health recorded an average circulation of 250,577, up just 0.2% year on year in the period July to December – its 16th consecutive year-on-year increase in circulation. This was inflated by giving away almost 10,961 copies, but this was down from 12,297 in the same period last year.
FHM, under new editor Colin Kennedy, suffered a fall of 15.2% year on year to 231,235 copies, but fell just 1.6% over the period, indicating that the title's revamp is bearing fruit.
Stuff magazine was a big winner over the past six months, upping its circulation 13.2% to 95,695 copies. Esquire, bolstered by record-high subscriptions, recorded a circulation of 59,160, up 12.2% on the period.
Loaded was down 20.9% year on year to 72.251, a fall of just 2% over the period. GQ was level on the period to record a circulation of 120,057.
Condé Nast's technology title Wired, which launched in May 2009, came in with a debut ABC of 48,275 – just shy of its 50,000 target within 12 months. However, it was boosted by giving away 10,000 free copies.
Front magazine's mix of sex, jokes and booze proved a hit, leaping up 10.4% on the period, to an ABC of 41,496.
Across the weeklies, Nuts registered an ABC of 176,835, down 24.4% year on year, and down 6.2% on the period. Rival Zoo came in with 102,043 – down 29.9% year on year and a fall of 8.1% on the period.
However, Jo Smalley, publishing director of Nuts and Loaded, pointed to Nuts' recent revamp with new content, which he argued was performing well on the newstand.
He also believed there would be a recovery in the weekly market, which has been hit hard by the recession.
He said: "When we come out of the recession, spending on the weekly mags is likely to come back, before some of the more premium monthly titles."
Some publishers bagged copies together over the period, including Bauer with FHM and Empire, - behaviour which rival publishers are quick to criticise.

Jamie Bill, publishing director of GQ, criticised Natmag's bagging together of women's monthly She magazine with Esquire magazine, citing the combination as the "most incongruous thing I have witnessed since Liz Taylor married Larry Fortensky".
* In this sector Esquire had 82% of copies actively purchased while GQ had 84.4%.
Top 15 Men's Lifestyle Magazines
Title
Publisher
Jul-Dec 09
Prd/prd Change
Yr/yr Change
1
Shortlist
Shortlist Media Ltd
513,148
0.5%
1.4%
2
Sport
UTV Media Ltd
306,435
0.4%
-3.4%
3
Men's Health
Natmag Rodale
250,577
0.1%
0.2%
4
FHM
Bauer Consumer Media
231,235
-1.6%
-15.2%
5
Nuts
IPC Media Ltd
176,835
-6.2%
-24.4%
6
GQ
Conde Nast Publications Ltd
120,057
0.0%
-7.7%
7
Zoo
Bauer Consumer Media
102,043
-8.1%
-29.9%
8
Stuff
Haymarket Consumer Media
95,695
13.2%
0.7%
9
BBC Focus
BBC Worldwide
71,783
5.3%
2.1%
10
Loaded
IPC Media Ltd
71,251
-2.0%
-20.9%
11
Men's Fitness
Dennis Publishing Limited
68,037
0.1%
1.3%
12
Esquire
The National Magazine Company Ltd
59,160
12.2%
-1.5%
13
T3
Future Publishing Ltd
59,143
N/A
-1.6%
14
Healthy for Men
River Publishing Ltd
51,377
-23.0%
-18.0%
15
Wired
Conde Nast Publications Ltd
48,275
N/A
N/A