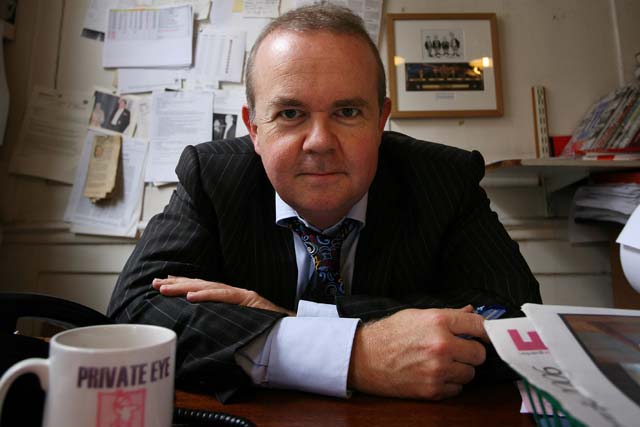 The fortnightly magazine edited by BBC's 'Have I Got News for You' regular Ian Hislop, increased sales by 10.6% period on period, and 10.1% year on year, to average 228,112 in the second half of 2011.
The double-digit hike secured its position as the most popular UK current affairs magazine. It followed a series of official parties and media publicity after Private Eye turned 50 years old in October 2011.
Events included an exhibition of the magazine at the V&A, which featured 50 of its best front covers, one for every year, as chosen by Hislop.
Over its 50-year history, Private Eye has published and promoted the work of more than 90 artists, many of whom started their careers at the magazine, including Gerald Scarfe, Ralph Steadman, John Kent and Ed McLachlan.
In addition to the exhibition, the magazine brand also published a book, called 'The A-Z of Private Eye – The First 50 Years'.
Together they have helped bolster Private Eye's position as the leading news and current affairs magazine by issue in the country, nearly 18,000 copies ahead of The Economist, although its rival title is published weekly.
The Economist did report its 32nd consecutive circulation rise for an ABC period, but only just, up on average just 66 copies since the first half of 2011, to 210,384.
The near static performance had been widely anticipated by group chief executive Andrew Rashbass, who said print declines are being more than offset by digital sales.
He told Media Week: "I probably make more money if you read it digitally, so I'm actually delighted. If you want to give me £120 [annual subscription] to read it digitally instead of reading it in print, I'm delighted."
Last October, The Economist revealed global digital sales of 100,000, however these are not included in today's ABC figures because the editions are not exact replicas of the print issues and therefore fall foul of current ABC stipulations.
Rashbass said: "At the moment the ABC figures only tell part of a print story. ABCs were designed to give an audited number for advertisers, but if you're not carrying the same editorial or advertising in print and digital editions, then what two numbers are joining together?"
Overall, circulation figures for news and current affairs magazines were up 12.3% in the second half of 2011, with MoneyWeek the fastest growing title, up 10.7% to 50,036.
Dennis Publishing's The Week was up 2.1% period on period and 3.9% year on year to average 187,536 copies.
James Tye, chief executive of Dennis Publishing, said he was "delighted" with a number of his titles in a "challenging print market". He singled The Week out for growing its presence across multiple platforms.
However, reflecting comments made by Rashbass, he said: "If I have a frustration it is that some of our outstanding digital sales results cannot be reflected in these audits.
"…The current ABC rules seem to make it extremely hard for us to include this large and influential audience in our circulation audits which in turn is not giving our advertisers the complete picture."
Jan Pitt, group executive director of client services at ABC, told Media Week: "With our new range of products, media owners can now report a wide range of metrics across all print and digital platforms to industry agreed standards including websites, apps, digital editions, digital publications, social media, email and databases.
"...we will continue to review feedback from publishers and agencies in order to evolve the rules rapidly and in line with industry needs. Much work is underway but there's no time to rest on our laurels."
Elsewhere, The Oldie's circulation was up 1.5% period on period and 6.4% year on year to 41,008. Monthly magazine Prospect increased its circulation 0.4% period on period and 0.5% year on year to 32,105.
The Spectator managed a slight rise of 1.1% on the period, but remained down 9.6% year on year to 63,543.
Zoe Bale, press planning director at Carat, called the figures for the sector "really positive". She added: "It shows people still buy printed products for the news, analysis and comment. Even though these brands have got digital extensions now peole are still buying print."
Top current affairs magazines
Title
Publisher
Dec 2010 - July 2011
Prd/prd
Yr/yr
change
change
The Economist - UK Edition
The Economist Newspaper
210,384
0.0%
0.1%
Private Eye
Pressdram
228,112
10.6%
10.1%
The Week
Dennis Publishing
187,536
2.1%
3.9%
Time Magazine (British Isles)
Time Warner Publishing Bv
128,373
N/A
2.0%
New Scientist (WW sales Ex. Australasia & US/Canada)
Reed Business Information Limited
92,533
-0.2%
-4.8%
Business Life
Cedar Communications Limited
84,117
6.2%
-3.3%
Spectator
Spectator (1828)
63,543
1.1%
-9.6%
MoneyWeek
Moneyweek Ltd
50,036
5.6%
10.7%
The Oldie
Oldie Publications
41,008
1.5%
6.4%
Prospect
Prospect Publishing
32,105
0.4%
0.5%