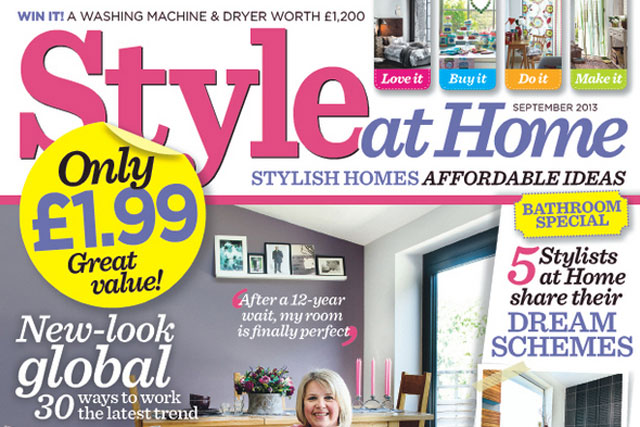 Style at Home, which has posted consecutive double-digit rises since it launched in January 2011, offers "affordable" home advice and had a circulation of 95,916 in the first half of 2013, up 19.9 per cent year on year and 9.1 per cent on the period, according to the latest Audit Bureau of Circulations figures.
Possibly bolstered by the early signs of recovering in the housing market, Ideal Home had a circulation of 198,075 in the first six months of 2013, an increase of 2.5 per cent year on year and 4.0 per cent quarter on quarter.
Yvonne Ramsden, the publishing director of Ideal Home and Style at Home, said: "IPC Southbank's launch into the value sector continues to bring new readers to the market.
"Delivering a unique editorial proposition of style and value, Style At Home targets women who take a budget hands-on approach to home decorating and renovating but who will not compromise on style."
Ramsden said: "Ideal Home has weathered economic and social storms for over 90 years by focussing on three key factors - emotional engagement with its audience; journalistic excellence, and creating top-quality original content that inspires homeowners with aspirational, but always achievable, ideas."
Meanwhile, the aspirational homes magazine Elle Decoration had an average circulation of 71,028 in the six months to 30 June, up 0.5 per cent year on year and 0.3 per cent compared to the final six months of 2012.
The steepest faller in the home interests sector was IPC Media's Homes & Gardens, down 8.5 per cent year on year to 120,397, followed by its sister publication Country Homes and Interiors, down 7.2 per cent to 92,454.
Magazine ABCs: Home interests

| | | | |
| --- | --- | --- | --- |
| Title | June End 2013 | Prd/Prd % change | Yr / Yr % change |
| Ideal Home | 198075 | 4% | 2.5% |
| Country Living | 184973 | -1.7% | -2.7% |
| Your Home | 128727 | -1% | -1% |
| House & Garden | 121735 | -3.7% | -4% |
| House Beautiful | 120588 | -5.2% | -4.7% |
| Homes & Gardens | 120397 | -5.6% | -8.5% |
| 25 Beautiful Homes | 100523 | 1.4% | -1.5% |
| Style at Home | 95916 | 9.1% | 19.9% |
| Living etc | 94823 | 3.7% | -3.5% |
| Country Homes and Interiors | 92454 | -5.3% | -7.2% |
| Elle Decoration | 71028 | 0.3% | 0.5% |
| World Of Interiors | 60414 | -0.2% | -2.3% |
| Homes & Antiques | 57790 | -6.2% | -6.1% |
| Grand Designs | 30444 | -2.6% | -0.7% |
Average circulation per issue for the six-month period Jan 2013 to Jun end 2013
Source: ABC Consumer Magazine Report