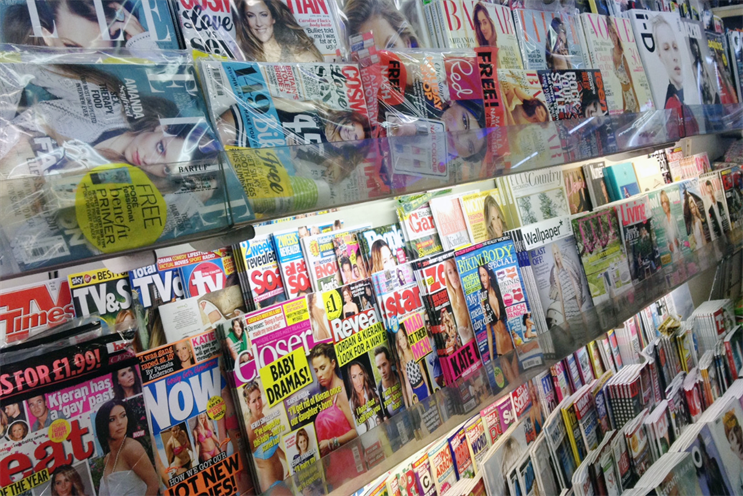 In terms of physical print copies, most magazines reported losses during the period with ABC tracking a 4.4% overall drop period on period.
The decision to allow digital editions of magazines to be included in the mix at the start of the year helped to avoid the double-digit blood baths of previous reports. However, even with the new combined figures, 75 of the Top 100 magazines in the UK posted falls in circulation.

Yet, digital editions continue to gain traction. For the titles audited in the period, the number of magazine brands reporting digital editions increased to 95, representing almost half (44%) of all titles in the report. The total circulation of digital editions is up 26 per cent year-on-year.

Barry McIlheney, chief executive of the PPA, said: "The figures in this report reiterate how shifting consumer media habits continue to impact upon today's modern, multi-platform magazine brands.

"The growth of digital editions is encouraging for the sector, and it should also be remembered that this ABC report does not include the increasing number of other ways – websites, live events, social media, etc. – in which the magazine brands of today engage directly with their consumers.

"The growing demand for digital content continues to place pressure on print magazines in some markets, but there are also a number of highlights in this report that demonstrate the continued robustness of print for certain brands, in certain markets, and among certain demographics."
Dennis Publishing's newsweekly The Week was among the magazine brands to report a digital ABC figure for the first time. It posted a robust debut digital circulation of 26,283, which, as chief executive, Kerin O'Connor told us, is more subscribers than the print magazine had at the equivalent lifecycle in 1997 three years after launch.

In another first, Haymarket's new Forever Sports magazine, launched in partnership with Sports Direct in March with a coverprice of £2, made its debut with 62,277 - making it the fourth biggest selling men's magazine.
IPC Media notes "resurgence"
IPC Media, the UK's largest magazine publisher by circulation, optimistically claimed "a resurgence in the women's lifestyle market" and continued growth in the home interest sector.

Notably, Woman&home's combined print and digital ABC has reached 344,922, a print increase of 0.4% on the year. Also in the monthly sector, Essentials posts a combined print and digital ABC of 109,098, an increase of 2.1% period-on-period.

In the weekly market, Woman's Own enjoyed a 2.2% year-on-year print sales increase to report a combined print and digital ABC of 226,195.

Marcus Rich, chief executive of IPC Media, said: "Forty-plus women - or GenerationYnot! as IPC calls them – turn to our titles to inspire and advise them on every aspect of their lives.
"They are a hugely discerning yet often overlooked group that has great commercial sway over their friends and families, and it is fantastic to see such a strong performance from the magazine sector that serves this audience."
Bauer Media builds "engagement"
Over at Bauer Media, there were pockets of growth from its established brands, including Yours (+0.5%) and Empire (+2%), while Grazia added nearly 4,000 weekly digital editions.
In Bauer's specialist portfolio, there was strong period on period growth for Garden News (10%) and Garden Answers (+16.6%). During the ABC period, Bauer also launched The Debrief in February, a multi-platform brand aimed at ABC1 20-something women.
In its first six months The Debrief reached 500,000 monthly unique users and its native advertising model has attracted a range of commercial launch partners, including H&M, Bacardi Group and 02.

Paul Keenan, chief executive of Bauer Media, said: "Bauer Media continues to focus on building engagement among valuable audiences by delivering relevant, world-class content through its powerful brands."
Condé Nast focuses on stability of "total gross audience"
Condé Nast highlighted its UK brands now reach a combined gross audience of 33,551,771 for its portfolio.
Circulation at the fashion bible Vogue continues to be stable at 200,032 ahead of plans to launch interactive mobile editions this autumn.
Glamour posted a new ABC of 405,045 and GQ extended its domination of the quality men's sector with an ABC of 125,024.
Nicholas Coleridge, managing director of Condé Nast Britain and president of Condé Nast International, said: "Once again, we have experienced a remarkable stability in circulation, emphasising the loyalty of upmarket readers in an economy emerging from recession. With all our digital platforms performing well ahead of expectations, this is a stellar time to be in branded magazine publishing."
Immediate Media "outperforms rivals"
Immediate Media noted its BBC Worldwide food portfolio had "outperformed the core food market period-on-period", with 25 year old BBC Good Food Magazine posting a combined ABC figure of 236,865.
The brand claims its subscriber base is now three times the size of its nearest two competitors, Olive and Delicious.
Meanwhile, BBC Top Gear Magazine can claim to be the strongest performer in the motoring market, with double the sales of its nearest rival and downloads of its app up 25% year-on-year.
Also notable in the group is the Radio Times. Despite falling 8% period on period, with a circulation of 755,581 and a cover price of £1.80 it remains a behemoth of magazine publishing. Now in its 91st year, it claims to be the UK's biggest selling quality magazine; the most valuable magazine on the UK newsstand and the biggest selling weekly magazine on subscription.
Kathy Day, managing director of Radio Times Group, told us: "Radio Times flourishes because it delivers an invaluable service to its readers, not only guiding them to the very best of broadcast content but also entertaining and informing them. Radio Times is not a listings magazine. It is a brilliantly executed magazine, with listings."
Hearst grows "brand reach"
Good Housekeeping, the 92 year old monthly, ensured publisher Hearst Magazines had something to shout about, increasing its lead over former leader Glamour to be crowned the UK's top monthly women's lifestyle magazine for the second successive report. Good Housekeeping's circulation now stands at 406,803, up 1.6% year on year.
Other Hearst-owned brands to report growth this period include Prima at 263,893, up 1.2%, and Women's Health at 115,517, up 2.7% period on period.

Anna Jones, chief executive of Hearst Magazines UK, said: "Our core strategy is to grow our brand audiences and reach by enabling our consumers to engage with our content and interact with our brands in the most relevant and convenient way for them. And it's working: our portfolio of brands now reach more people than ever before, and I am naturally delighted with the growth of some of our key brands this ABC period."
See related links below for all our sector specific magazine ABC news.
| | | | | | | | | | | |
| --- | --- | --- | --- | --- | --- | --- | --- | --- | --- | --- |
| Product | Print Actively Purchased UK RoI | Prior Period Print Actively Purchased UK RoI | Print Total Previous Period Change | Prior Year Print Actively Purchased UK RoI | Print Total Previous Year Change | Digital Total Average Circulation UK RoI | Prior Period Digital Total Average Circulation UK RoI | Digital Total Previous Period Change | Prior Year Digital Total Average Circulation UK RoI | Digital Total Previous Year Change |
| TV Choice | 1,303,011 | 1,374,813 | -5.51% | 1,282,276 | 1.59% | | | | | |
| What's on TV | 1,033,376 | 1,047,346 | -1.35% | 1,081,176 | -4.63% | 1,728 | 1,501 | 13.14% | 1,050 | 39.24% |
| Radio Times | 755,581 | 823,810 | -9.03% | 805,042 | -6.55% | | | | | |
| Take a Break | 651,162 | 688,264 | -5.70% | 713,778 | -9.62% | | | | | |
| Slimming World Magazine | 463,473 | 448,329 | 3.27% | 436,657 | 5.79% | 10,918 | 7,336 | 32.81% | | |
| Saga Magazine | 450,138 | 485,422 | -7.84% | 550,806 | -22.36% | 636 | | | | |
| Good Housekeeping | 384,278 | 391,818 | -1.96% | 376,597 | 2.00% | 2,193 | 2,313 | -5.47% | 3,036 | -38.44% |
| Glamour | 363,184 | 371,309 | -2.24% | 366,490 | -0.91% | 2,781 | 2,673 | 3.88% | 2,359 | 15.17% |
| Woman and Home | 326,749 | 328,096 | -0.41% | 322,460 | 1.31% | 2,645 | 2,477 | 6.35% | 1,854 | 29.91% |
| New! | 320,662 | 369,135 | -15.12% | 383,018 | -19.45% | 4,821 | 4,218 | 12.51% | 2,799 | 41.94% |
| Closer | 306,353 | 329,319 | -7.50% | 345,078 | -12.64% | 1,179 | | | | |
| Chat | 297,483 | 320,174 | -7.63% | 318,360 | -7.02% | 1,116 | 1,172 | -5.02% | 864 | 22.58% |
| Woman's Weekly | 282,593 | 280,639 | 0.69% | 289,215 | -2.34% | 236 | 150 | 36.44% | 106 | 55.08% |
| Prima | 258,947 | 256,654 | 0.89% | 247,291 | 4.50% | 486 | 466 | 4.12% | 581 | -19.55% |
| OK! Magazine | 251,837 | 287,528 | -14.17% | 304,072 | -20.74% | 6,729 | 6,078 | 9.67% | 3,444 | 48.82% |
| Woman | 251,514 | 247,159 | 1.73% | 252,798 | -0.51% | 864 | 872 | -0.93% | 406 | 53.01% |
| That's Life | 251,089 | 276,453 | -10.10% | 273,397 | -8.88% | | | | | |
| Yours | 250,936 | 249,391 | 0.62% | 252,446 | -0.60% | | | | | |
| Cosmopolitan | 229,390 | 222,163 | 3.15% | 249,970 | -8.97% | 3,861 | 3,480 | 9.87% | 4,568 | -18.31% |
| TV Times | 226,922 | 253,341 | -11.64% | 246,848 | -8.78% | 249 | 180 | 27.71% | 113 | 54.62% |
| Woman's Own | 220,853 | 221,201 | -0.16% | 215,717 | 2.33% | 656 | 603 | 8.08% | 413 | 37.04% |
| BBC Good Food | 214,715 | 245,780 | -14.47% | 239,714 | -11.64% | 8,062 | 8,210 | -1.84% | 7,683 | 4.70% |
| BBC Gardeners' World | 213,303 | 191,079 | 10.42% | 227,236 | -6.53% | 1,613 | 1,206 | 25.23% | 996 | 38.25% |
| National Geographic Magazine | 212,321 | 233,668 | -10.05% | 235,409 | -10.87% | | | | | |
| Sainsbury's Magazine | 212,184 | 200,459 | 5.53% | 210,801 | 0.65% | | | | | |
| HELLO! | 210,049 | 215,279 | -2.49% | 211,229 | -0.56% | 1,802 | 1,963 | -8.93% | 1,373 | 23.81% |
| Star | 209,085 | 256,240 | -22.55% | 220,957 | -5.68% | 1,131 | 752 | 33.51% | 292 | 74.18% |
| Heat | 206,716 | 226,556 | -9.60% | 227,870 | -10.23% | 1,088 | | | | |
| Peoples Friend | 206,553 | 215,999 | -4.57% | 218,139 | -5.61% | 133 | | | | |
| Private Eye | 205,196 | 211,066 | -2.86% | 209,630 | -2.16% | | | | | |
| Best | 198,447 | 205,814 | -3.71% | 208,895 | -5.26% | 189 | 114 | 39.68% | 255 | -34.92% |
| Bella | 193,882 | 213,621 | -10.18% | 207,676 | -7.11% | | | | | |
| Ideal Home | 181,533 | 181,791 | -0.14% | 183,821 | -1.26% | 1,290 | 1,318 | -2.17% | 729 | 43.49% |
| Now | 175,576 | 188,955 | -7.62% | 203,813 | -16.08% | 1,696 | 1,558 | 8.14% | 930 | 45.17% |
| Red | 172,102 | 182,581 | -6.09% | 186,788 | -8.53% | 2,362 | 2,251 | 4.70% | 2,282 | 3.39% |
| Marie Claire | 167,069 | 171,590 | -2.71% | 183,411 | -9.78% | 1,342 | 1,263 | 5.89% | 1,094 | 18.48% |
| Real People | 164,773 | 181,014 | -9.86% | 168,875 | -2.49% | 234 | 348 | -48.72% | 455 | -94.44% |
| Reveal | 163,381 | 174,164 | -6.60% | 170,111 | -4.12% | 1,366 | 1,418 | -3.81% | 1,333 | 2.42% |
| Men's Health | 158,209 | 165,855 | -4.83% | 166,836 | -5.45% | 6,851 | 6,454 | 5.79% | 7,265 | -6.04% |
| Pick Me Up | 157,535 | 176,920 | -12.31% | 168,094 | -6.70% | 501 | 378 | 24.55% | 206 | 58.88% |
| Look | 155,272 | 163,386 | -5.23% | 177,784 | -14.50% | 1,895 | 1,399 | 26.17% | 988 | 47.86% |
| Take a Break Series | 154,848 | 168,944 | -9.10% | 155,155 | -0.20% | | | | | |
| The Week | 150,440 | 148,826 | 1.07% | 153,734 | -2.19% | | | | | |
| Country Living | 149,996 | 156,498 | -4.33% | 149,487 | 0.34% | 725 | 770 | -6.21% | 985 | -35.86% |
| TV and Satellite Week | 148,603 | 154,844 | -4.20% | 159,322 | -7.21% | 823 | 596 | 27.58% | 423 | 48.60% |
| Candis | 141,932 | 153,199 | -7.94% | 173,153 | -22.00% | | | | | |
| The Economist - United Kingdom Edition | 139,629 | 138,719 | 0.65% | 161,334 | -15.54% | 21,780 | 12,642 | 41.96% | 8,818 | 59.51% |
| Grazia | 138,017 | 145,851 | -5.68% | 154,881 | -12.22% | 3,590 | | | | |
| Vogue | 137,626 | 145,380 | -5.63% | 138,548 | -0.67% | 3,371 | 3,634 | -7.80% | 3,306 | 1.93% |
| Reader's Digest | 133,496 | 13,130 | 90.16% | 128,831 | 3.49% | | | | | |
| Inside Soap | 132,976 | 144,846 | -8.93% | 142,545 | -7.20% | 2,781 | 2,094 | 24.70% | 1,596 | 42.61% |
| Weightwatchers Magazine | 131,054 | 142,347 | -8.62% | 150,248 | -14.65% | | | | | |
| Elle (U.K.) | 120,057 | 132,187 | -10.10% | 129,902 | -8.20% | 1,382 | 1,490 | -7.81% | 1,717 | -24.24% |
| Your Home | 118,686 | 117,084 | 1.35% | 123,699 | -4.22% | 768 | 524 | 31.77% | | |
| Empire | 117,434 | 126,791 | -7.97% | 138,783 | -18.18% | 5,530 | | | | |
| TV Easy | 108,661 | 112,440 | -3.48% | 122,091 | -12.36% | 257 | 189 | 26.46% | 51 | 80.16% |
| Total TV Guide | 107,691 | 109,709 | -1.87% | 110,263 | -2.39% | | | | | |
| Essentials | 107,376 | 105,129 | 2.09% | 110,112 | -2.55% | 535 | 458 | 14.39% | 360 | 32.71% |
| House Beautiful | 105,143 | 113,383 | -7.84% | 116,381 | -10.69% | 397 | 444 | -11.84% | 476 | -19.90% |
| Style at Home | 104,131 | 94,644 | 9.11% | 92,556 | 11.12% | 596 | 451 | 24.33% | 267 | 55.20% |
| My Weekly | 102,485 | 107,404 | -4.80% | 108,274 | -5.65% | | | | | |
| Women's Health | 101,094 | 97,953 | 3.11% | 94,036 | 6.98% | 5,071 | 5,811 | -14.59% | 4,323 | 14.75% |
| Love It! | 100,794 | 117,953 | -17.02% | 118,286 | -17.35% | | | | | |
| Instyle UK | 97,790 | 96,290 | 1.53% | 102,208 | -4.52% | 851 | 905 | -6.35% | 611 | 28.20% |
| BBC Top Gear Magazine | 94,965 | 103,615 | -9.11% | 102,987 | -8.45% | 4,635 | 5,037 | -8.67% | 3,383 | 27.01% |
| Fun to Learn - Peppa Pig | 87,863 | 92,799 | -5.62% | 91,036 | -3.61% | | | | | |
| 25 Beautiful Homes | 84,858 | 87,631 | -3.27% | 87,744 | -3.40% | 316 | 398 | -25.95% | 347 | -9.81% |
| Homes and Gardens | 78,314 | 78,658 | -0.44% | 82,407 | -5.23% | 834 | 659 | 20.98% | 442 | 47.00% |
| Country Homes and Interiors | 75,704 | 78,916 | -4.24% | 74,579 | 1.49% | 468 | 312 | 33.33% | 235 | 49.79% |
| GQ | 74,304 | 76,576 | -3.06% | 74,671 | -0.49% | 6,386 | 6,668 | -4.42% | 6,480 | -1.47% |
| Living etc | 73,420 | 72,193 | 1.67% | 74,549 | -1.54% | 1,168 | 1,060 | 9.25% | 792 | 32.19% |
| Peppa Pig Bag-o-Fun | 69,844 | 65,936 | 5.60% | | | | | | | |
| New Scientist - Worldwide Sales Excluding Australasia and US/Canada | 68,332 | 72,367 | -5.90% | 74,885 | -9.59% | 4,185 | 1,178 | 71.85% | | |
| House and Garden | 67,112 | 67,809 | -1.04% | 68,037 | -1.38% | 549 | 574 | -4.55% | 735 | -33.88% |
| Four Four Two | 61,320 | 68,521 | -11.74% | 58,286 | 4.95% | 1,656 | 1,650 | 0.36% | 222 | 86.59% |
| Soaplife | 61,088 | 67,576 | -10.62% | 75,387 | -23.41% | 300 | 192 | 36.00% | 180 | 40.00% |
| Disney\'s Princess | 59,942 | 51,588 | 13.94% | 60,949 | -1.68% | | | | | |
| BBC History Magazine | 59,698 | 61,014 | -2.20% | 59,578 | 0.20% | 3,442 | 3,642 | -5.81% | 2,721 | 20.95% |
| Cbeebies Art | 58,282 | 53,318 | 8.52% | 64,750 | -11.10% | | | | | |
| Psychologies Magazine | 57,366 | 57,588 | -0.39% | 59,405 | -3.55% | 1,423 | 982 | 30.99% | | |
| MoneyWeek | 56,292 | 55,116 | 2.09% | 50,382 | 10.50% | | | | | |
| Fun to Learn - Friends | 55,694 | 66,818 | -19.97% | 72,724 | -30.58% | | | | | |
| FHM | 55,602 | 66,159 | -18.99% | 74,771 | -34.48% | 2,058 | | | | |
| All About Soap | 55,514 | 63,297 | -14.02% | 68,359 | -23.14% | 675 | 773 | -14.52% | 946 | -40.15% |
| CBeebies Weekly | 55,381 | 42,693 | 22.91% | 46,498 | 16.04% | | | | | |
| Forever Sports Magazine | 54,468 | | | | | | | | | |
| delicious | 53,699 | 62,892 | -17.12% | 62,165 | -15.77% | | | | | |
| Harpers Bazaar | 53,269 | 51,827 | 2.71% | 56,688 | -6.42% | 597 | 699 | -17.09% | 937 | -56.95% |
| Cbeebies Special | 52,627 | 61,556 | -16.97% | 53,079 | -0.86% | | | | | |
| Toxic | 49,493 | 52,572 | -6.22% | 51,602 | -4.26% | | | | | |
| Auto Express | 46,203 | 49,412 | -6.95% | 49,956 | -8.12% | | | | | |
| Top of the Pops | 46,063 | 55,304 | -20.06% | 62,580 | -35.86% | | | | | |
| Barbie | 45,829 | 42,727 | 6.77% | 48,837 | -6.56% | | | | | |
| Lego Legends of Chima | 45,650 | 42,954 | 5.91% | | | | | | | |
| Disney Stars | 45,358 | 45,011 | 0.77% | | | | | | | |
| Something Special | 43,932 | 44,810 | -2.00% | 56,606 | -28.85% | | | | | |
| Sofia The First | 43,738 | 44,308 | -1.30% | | | | | | | |
| Elle Decoration | 43,190 | 42,200 | 2.29% | 46,829 | -8.43% | 1,179 | 991 | 15.95% | 1,345 | -14.08% |
| Top Sante Health and Beauty | 42,872 | 43,003 | -0.31% | 49,845 | -16.26% | | | | | |
| Octonauts | 42,717 | 52,879 | -23.79% | 59,167 | -38.51% | | | | | |