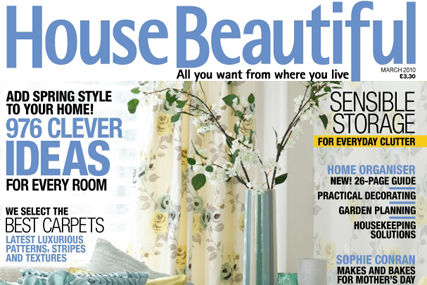 The title's stablemate Country Living also benefited from the drop at Ideal Home, moving to the number two slot with 197,891 copies.
Liz Kershaw, executive group publishing director for Women's Interest titles at NatMag, said the result for House Beautiful, which passed 168,000 copies, was down to sheer hard work.
She said: "I'm thrilled for the guys at House Beautiful because their hard work over the past year is paying off."
It was an otherwise unremarkable ABC for the homes and gardens sector with a largely flat period for the most publishers and a couple of strong performances pushing the sector up to 37.1% growth.
Elsewhere Hubert Burda Media's Your Home put on 13.8% over the period and 21% year on year to 130,295 copies.
BBC Gardeners' World posted an 18.5% drop period on period but only a 1.9% fall year on year, publishing director Dominic Murray said was entirely seasonal.
He said: "With gardening titles we always look at year on year comparisons because demand is vastly different according to the time of year."
In the ABC data for June 2009 the magazine was up 20.3% period on period but in December 2008 was down 27.2%.
Murray said Gardeners' World had entered a "period of stability" in the last two periods and that, in a category that is down 3.5%, was pleased at how well the title was holding up.
Good Homes and Real Homes failed to post in today's ABC.
Top 10 homes and Gardens magazines
Title
Publisher
Jul-Dec 09
Prd/prd change
Yr/yr change
1
BBC Gardeners' World
BBC Worldwide
216,936
-18.5%
-1.9%
2
Country Living
The National Magazine Company Ltd
197,891
2.8%
4.6%
3
Ideal Home
IPC Media Ltd
187,322
-3.8%
-5.2%
4
House Beautiful
The National Magazine Company Ltd
168,035
12.0%
4.3%
5
Homes & Gardens
IPC Media Ltd
132,117
-2.1%
-5.8%
6
House & Garden
Conde Nast Publications Ltd
130,777
0.1%
-6.6%
7
Your Home
Hubert Burda Media UK
130,295
13.8%
21.0%
8
Wallpaper
IPC Media Ltd
105,028
N/A
-2.8%
9
25 Beautiful Homes
IPC Media Ltd
104,114
1.2%
1.6%
10
Living etc
IPC Media Ltd
91,543
0.7%
5.8%