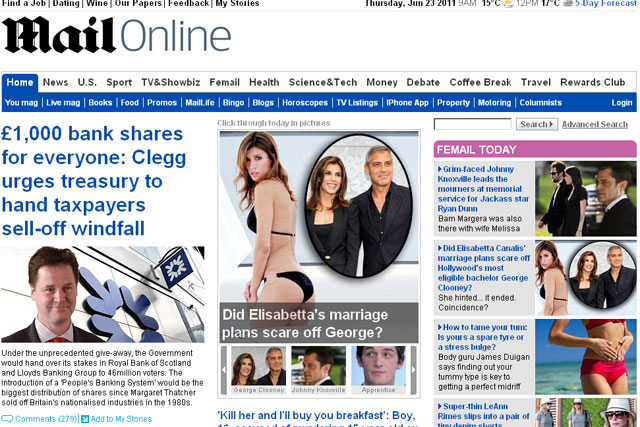 The addition of 7.1 million global monthly unique visitors for the May takes MailOnline, which has made a concertive push in the US with editorial and sales offices, to 45 million monthly unique visitors, just behind the New York Times, which was up 4.7% to 48.7 million despite its paywall.
Matthew Kearney, US chief executive of MailOnline, said: "At the current pace it looks likely we'll be number one before the summer is out."
The Huffington Post, which is set to launch in the UK on 6 July, received the third highest number of monthly unique visitors in May at 42.9 million, an increase of 10.5% from the previous month.
BBC News increased its monthly unique visitors by 7.8% to make it the forth most viewed site in May with 41.2 million uniques.
This was followed by the Guardian, which grew 15.2%, taking it to 33 million monthly unique users.
The Washington Post saw sharp growth in online visitor numbers of 22% in May, taking it to 23.6 million monthly uniques, closing the gap on Wall Street Journal which had 23.9 million monthly uniques in May with an increase of 1.2% from the previous month.
The New York Post saw the greatest overall growth in global monthly unique visitors in May, with a 30.1% increase, taking it to 8.3 million monthly uniques and making it the 11th most viewed global news site behinds Los Angeles Times with 22 million monthly uniques, USA Today with 19.5 million and Daily News with 14.8 million.