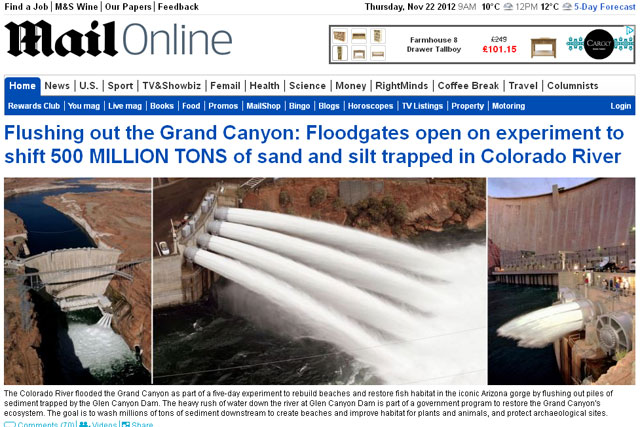 Daily Mail & General Trust (DMGT) reported its results this morning. Highlights include the performance of MailOnline, the free market-leading UK newspaper website that boasts more than 100 million unique browsers a month, according to audited figures.
However, the MailOnline revenue figure of £28m is still dwarfed by print advertising figures on the group's national newspapers. By comparison, advertising revenues at Metro, Daily Mail and Mail on Sunday totally more than £300m in the year.
Executives are planning a significant uplift in investment in MailOnline next year, including expanding its New York and LA offices, following the launch of the Indian version of the site in the past year.
DMGT reported its results just after offloading its regional titles, Northcliffe Media, to a consortium, called Local World, headed by David Montgomery, the newspaper entrepreneur.
Operating profits at Northcliffe Media swelled 54% to £26m, helped by restructuring of the business, including axing 324 staff, ahead of the sale of the titles. DMGT said profits were also helped by digital revenues at the titles.
Further costs were reduced at Northcliffe business by lower print costs and distribution changes.
Revenues at Northcliffe – which includes titles such as the Hull Daily Mail and Leicester Mercury – were down from £236m to £213m in the full year.
DMGT also announced today that Kevin Beatty, chief executive of A&N Media, will become a member of the board of Local World, in which DMGT will hold a stake.
Operating profits at Associated Newspapers – which houses the Daily Mail, The Mail on Sunday and Metro titles– were up 2% from £76m to £78m. Profits at Metro hit a record £20m, helped by advertising around the 2012 Olympics.
A statement from DMGT said this was "primarily due to improved revenues from our digital operations, as well as the benefits of cover price increases on circulation revenues".
At the same time, revenues at Associated Newspapers were down £14m from £862m to £848m, negatively impacted by lower display advertising revenues from the two Mail titles.
However, the group flagged up that display advertising had improved in the second half of the year. Advertising revenues across the titles were 2% down on the year to £332m, with a strong performance by MailOnline and Metro offset by lower display revenues at both Mail print titles.
By category, the two largest, retail and travel, witnessed revenue declines by 7% and 16% respectively.
Follow @johnreynolds10