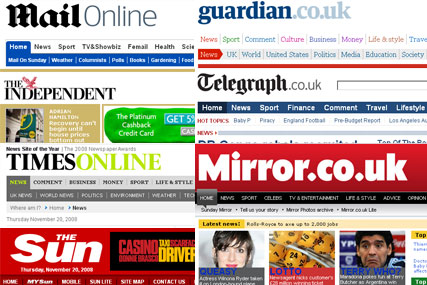 The top 10 newspaper sites attracted on average 23% more visitors last month than they recorded in November 2007, while the number of visitors accessing the top 10 magazine sites were up 30%.

The website for The Guardian continues to lead the press pack with 3.4 million unique UK visitors, despite having the lowest year-on-year rise of 14%. The online offering from The Telegraph was second, up 23% to 3.1 million visitors, ahead of News International's sites for The Times, up 42% to 2.8 million, and The Sun, up 43% to 2.7 million.

In the panel-based data, the website for the Daily Mail only takes fifth spot despite seeing growth of 65% year on year to 2.7 million.

The leading magazine websites cover a wide array of sectors, led by Auto Trader, with 1.8 million visitors, followed by Which? (one million), BBC Good Food (745,000) and Radio Times (566,000).

All the figures for Nielsen' panel-based research are well below traffic reported monthly by ABCe, which involves actual site-centric data, although it fails to distinguish between home and work visitors or take into account cookie deletion.

However, both sets of figures are in stark contrast to the general malaise reported for the same publishers' print circulations in 2008. Last week, Deloitte warned that one in 10 print publications are likely to be forced to drastically reduce frequency, move online or close entirely next year.

Alex Burmaster, communications director of Nielsen Online, said: "Regardless of what's happening with print circulations, the major papers have had a fantastic year online, all experiencing strong growth in audience numbers.
"The UK internet audience is expected to grow around 10% to 11% in 2008 – this has been more than doubled by the leading newspaper sites and trebled by the magazine brand extensions," he added.

"Such growth certainly supports the case for publishers to continue to invest online and realign their business focus."