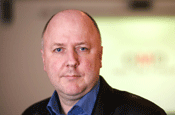 Michael Greenlees, the founder of Gold Greenlees Trott and former chief executive of TBWA Worldwide, has been appointed as chief executive and Nick Manning, the former chief executive of OMD, has been brought in as chief operating officer.
The appointment of Greenlees and Manning will allow the founders and joint chief executives, husband-and-wife team Sarah Jane Thomson and Steve Thomson, to take more of a back seat in running the business. The AIM-listed company, which two years ago acquired the auditing company Billetts, has ambitious growth plans.
Greenlees and Manning have been handed the task of building Thomson's reputation beyond that of being a technology platform into one of being an authority on marketing intelligence, consultancy and return on investment.
Greenlees, who was a non-executive director of Thomson, left Omnicom in 2004 to join New York based ad distribution company FastChannel Network as chief executive. Manning resigned from his OMD role and left the agency in April this year having previously co-founded Manning Gottlieb Media with Colin Gottlieb.