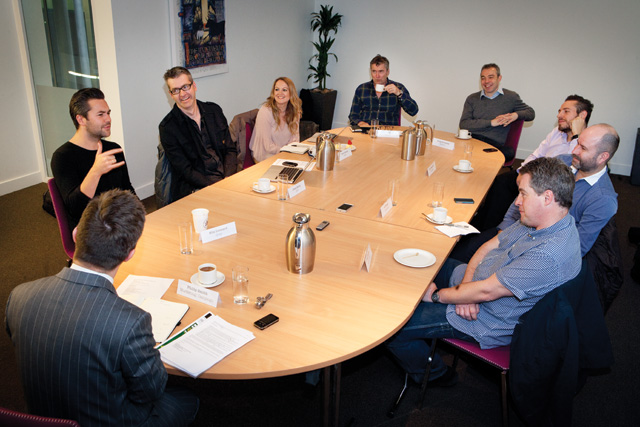 In sharp contrast to other media, radio has a growing audience and increasing revenue. The latest Rajar figures reveal that 90% of people in the UK tune in, listening to an astounding 1.06bn hours of radio each week. As an ever-present medium in its listeners' lives, is radio advertising making the most of this audience?
Marketing, with the RAB, brought together experts in media, radio and creativity to discuss how brands can most effectively use the medium.
Radio communicates powerfully
Autoglass is a prolific radio advertiser, both in the UK and abroad. Its marketing director, David Meliveo (who has been appointed marketing director of Saga Healthcare since this roundtable) says: 'People consume radio in a different way from other media. It's a very personal relationship, with DJs and presenters, and they really listen.'
As with any advertising, Meliveo is looking for radio to deliver sales: 'It works especially well when they are listening in-car. It's absolutely the right time and place to speak to drivers.'
Other brands have yet to fully embrace these strengths, though. Greg Grimmer, media partner, HMDG, puts this down to the widespread perception of radio as being unfashionable. 'It's not going to get up the marketers' agenda because it's not sexy,' he argues.
Indeed, while an online brief sparks innovation, according to Nils Leonard, executive creative director, Grey: 'With radio everyone hangs their heads. It's 30 seconds of some sort of voiceover and sound bites, with a gag at the end.' Grimmer points to the COI as having been one of the most successful, creative and emotive radio advertisers. 'If we can do it for them, why can't we do it for other brands?' he asks. However, other big radio advertisers such as BSkyB, Vodafone and Unilever are using straight-down-the-line messaging, he adds.
Creative and the challenge of radio
The panel generally laments the declining number of radio briefs coming from clients, and that a lack of understanding of what radio can do is reflected in many that are supplied.
Radio had a record haul at this year's D&AD awards, with 16 entries awarded in-book status, eight nominations and three yellow pencils. Tim Lindsay, chief executive, D&AD, notes that in-book and pencil winners tended to be quite conventional, 'well-written, and a minute long. It wasn't rule-breaking stuff'.
This year, D&AD winners Leica and Mercedes-Benz were both recognised by the panel as strong campaigns. 'It's beautiful long prose, long time-lengths, great storytelling, wonderful love of language, and I don't get that luxury with some of the briefs I get on radio,' says Jason Berry, creative director, JWT. 'I just don't get that canvas to have that much fun.' Clare Bowen, head of creative at the RAB, agrees: 'I think length should be considered earlier in the process, when approaching clients, rather than at the last minute.'
Paul Burke, writer and producer at Abbott Mead Vickers BBDO, also warns that the approach to radio from clients isn't necessarily conducive to producing work that plays to radio's strengths. 'Clients want "matching luggage", to use a horrible phrase,' he says.
'So you do some nice print work, it's really visual, and they want the same for radio. It doesn't work.'
Bowen puts forward Snickers as a great example of adapting for radio, rather than trying to reuse its TV ad verbatim. Berry points out that a lack of radio briefs can foster a lacklustre attitude toward it, while Burke puts this down to the skills of creatives.
Largely recruited from art colleges and used to working in visual media, radio briefs pose a challenge. 'Why would they want to do radio?,' he asks. 'You're right, the skills aren't necessarily there,' agrees Bowen.
For those brands and marketers willing to ask for it, there's certainly no shortage of love for radio and ideas for pushing creative executions further. 'We need to think outside the spot,' says Al Young, executive creative director at St Luke's: 'I've written a few nice radio ads in my time, but the best thing we've done is take it outside the ad break.'
'On talkSPORT with Strongbow, we had people calling in about how hard their day was, and it made for entertaining listening. For Magic, we had the DJs ask listeners to upload the pictures that really moved them and were meaningful, and then put them into posters.'
How we can get better work out
'No one's looking at that media with a different shape,' says Leonard, pointing to the potential of subverting music and show content, brands making their own programming and 'proper landmark' radio in the vein of well-known TV work such as Cadbury's 'Gorilla' and the Sony 'Balls' campaign. 'Wouldn't it be brilliant to have someone from a programming background plan the strategy of a campaign, so they understand how radio can reach people in a new way?' he suggests.
Berry notes that, in his experience, brands are focused on TV for the emotional and exciting elements, with radio getting the thin end of the wedge with 'the more functional, promotional stuff'.
'Where radio can really work for a brand is to create that emotional connection. That's where the effectiveness comes in, not a short-term claim or new promotion. It's not often seen that way, but long-term brand-building is where it can help,' he explains. 'The media agency says it's just not going to get that ROI."
Indeed, media agencies have something to answer for in the process. Meliveo points out that they recommend which channels to use. 'Whether they decide they don't make enough on radio, therefore they won't recommend it, is a different story,' he says.
Until radio becomes more than an add-on, it will not receive the attention it deserves, according to Berry. 'Some of the best work from JWT has come from the creatives, not the client or media agency,' he contends.
Leonard also points to the launch of Monocle's online radio station, which has the time sponsored by Rolex. 'You could argue that's a creative sponsorship idea,' he says. 'Look at the brands in the world that should have a radio presence that you'd buy into.'
Young argues that radio has always been about this, due to its unique place in people's lives. 'Over the past 10 years, we've seen a shift from propositions to conversations. Radio is the original conversation medium.'
He sees no reason for radio to be stagnant in the face of technology, which is influencing innovation in every other aspect of advertising. 'We hear a lot about second screens with TV, but if you're enjoying something, you're going to put the lid down. With radio you are always going to have the lid up, with it on in the background. You can jump from a message on the radio into an online experience,' he adds.
This easy transition has other benefits. Regulation can pose a hindrance to creative, with long terms and conditions from overzealous legal departments, but Burke points out that 'if someone misses the offer, people can just Google it. All you need is "conditions apply, see website for details"'.
In conclusion, as the diversity of the views aired in the debate shows, enthusiasm for radio as a marketing medium is not only alive, it's often very lively. However, the consensus is that brands and marketers can do much more to make an impact and there is a real opportunity to do something different.
As ever, thinking about the specific strengths of the medium earlier in the planning process is recommended, but the message is that risks can be taken and bravery will bring rewards and a boost to the bottom line.
For more on radio's creative power, visit: - rab.co.uk/helpful-tools/love-radio-ads-appdandad.org/inspiration/inspired-by/rab
HOW TO PLAY TO RADIO'S STRENGTHS
1. Use radio to build brands, rather than just for promotions.
2. Make people feel something, instead of broadcasting 'at' them. The power of imagination can be used to engage.
3. Radio is nimble and fast, so make the most of topicality. A radio ad can be on the air the next day.
4. It's the original second-screen medium. You can jump from a message on the radio into an online experience.
5. Push the boundaries and dare to take risks.
AROUND THE TABLE
Philip Smith head of content solutions, Marketing (chair)
Nils Leonard creative director, Grey
Jason Berry creative director, JWT
Clare Bowen head of creative, RAB
Tim Lindsay chief executive, D&AD
Greg Grimmer media partner, HMDG
David Meliveo marketing director, Autoglass (who became marketing director at Saga Healthcare after participating)
Al Young creative director, St Luke's
Paul Burke writer and producer, Abbott Mead Vickers BBDO.