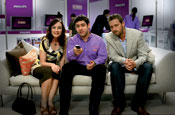 These rankings, compiled from the 51 Adwatch tables that ran between 1 November 2006 and 31 October 2007, show which brands achieved the most recall across the year, and ads that scored highest in one particular week.
The table for recall across the year is monopolised by the country's big retailers, with PC World taking the number-one slot after shooting from nowhere into third place last year. Other high-street favourites jostling for attention include Marks & Spencer, Argos and Sainsbury's (marginally down from 2006) and B&Q and DFS (slightly up).
The most significant falls are British Gas, which has plummeted from number nine to 20, McDonald's, with a drop of eight places and only 13 mentions compared with 20 last year, and, perhaps surprisingly, last year's top-scorer Tesco, which is number five with only 18 mentions compared with last year's 32, on a slightly reduced TV budget.
A growing proportion of TV advertising seems to be reflecting the 21st-century obsession with celebrity. Famous faces are not just in the jungle, the Big Brother house and celebrity magazines - they are taking over the commercial break as well.
No fewer than half the top 10 brands use celebrities in their advertising. Indeed, celebrity endorsement seems almost a prerequisite for the big retailers. Ad breaks are currently filled by the Spice Girls for Tesco, Twiggy et al for Marks & Spencer, Julie Walters for Asda and Lulu for Morrisons, whose celebrity-driven 'fresh' ads have been a common sight in the Adwatch tables over recent months.
Malcolm Green, executive creative director of Morrisons' agency, DLKW, has used plenty of celebrity endorsement in the past. As well as co-creating the Walkers Gary Lineker campaign in 1995, at DLKW he 'created' a celebrity in the form of Halifax's Howard. 'The reason there are so many celebs in the ad break is down to the Sky+ factor; if people are fast-forwarding, you need something to stop them in their tracks, and a famous face can do that,' he says. 'But it's better to use the celebrity against type, as we did with Lineker; that ultimately has greater impact.'
Green believes agencies should be devising ways to expand celebrity ties. 'With Howard, we animated him, got him into The Office Christmas Special and even into Madame Tussauds. TV advertising is so expensive, you have to make every second count.'
Of course, celebrity pulling-power doesn't always work. Two years ago, Asda dumped Sharon Osbourne from its ads after concluding that, despite generating massive awareness, she was simply wrong for its target market and was failing to generate store traffic.
Andrew Edwards, group chief executive of Leo Burnett, which is behind the current ads for Oxfam Unwrapped featuring deadpan stars talking about the 'tragedy' of unwanted Christmas gifts, believes that the success of the work is largely due to casting. 'It's critical to find celebrities who connect with the audience and fit the brand,' he says. 'We chose a broad range of celebrities for Oxfam, which has a wide target market.'
Edwards adds: 'Having found the right celebrity to connect with your audience, you have to make sure that the connection is converted into sales. Every element of the marketing mix has to work together.'
The best-value TV advertising of the year, achieving high recall on a comparatively modest budget, came from KFC, Asda and PC World. The latter topped the league with a TV budget of just over £20m. PC World marketing director Niall O'Keefe believes the brand is reaping the benefits of 11 years' consistency with the same agency and 'brand clues' that characterise all the 30-plus commercials that it runs each year.
'Every ad has an establishing shot of the store doors opening, a standard in-store format, colleagues in well-branded purple shirts, tongue-in-cheek humour, a great product offer and the distinctive closing jingle,' he says. 'People always mention the swoosh of the doors at the beginning and the jingle at the end, and tracking studies show they definitely recall the offers.'
The ads feature a 15-strong 'roster' of actors playing PC World staff and, although generally aimed at a mass market, target specific audiences at different times of year with offers such as cameras in the summer and laptops at the start of the academic year.
The 'Best of both worlds' strapline (a development of the earlier 'Where in the world?' line) conveys the benefits of retail combined with the sort of prices normally found online. It also reflects the fact that a growing amount of PC World business is coming through the internet and call centres.
The retailer's triumph in the table - as with previous Adwatch of the Year success stories including BT, B&Q, Churchill and Halifax - shows the value of long-running, confident and heavyweight advertising, incorporating consistent visual and audio brand clues. The problem for PC World - as it was for its league-topping predecessors - will be how to maintain the freshness and relevance of the campaign without losing those memorable brand markers.
When it comes to generating high recall over a short time frame, however, it seems nothing beats naff. The table of highest recall in a single week reveals strong performances for Sheilas' Wheels, Iceland and Churchill, proving that a shelf-full of creative awards is not necessary to score a hit with the general public.
Only six brands in the one-off recall list feature in the table of recall across the whole year. Several of the best-recalled ads of the year (most notably eBay, Iceland and Sheilas' Wheels) have achieved sensational standout on relatively tiny budgets. And while neither the Churchill dog nor Iceland's Kerry Katona received great press in 2007, there is no question that they did the business for their advertising paymasters.
Click here to see Top 10 ads with the highest recall in a single week in 2007
With regard to Sheilas' Wheels, the women's motor insurance brand owned by Esure, it might seem as if the Pink Sheilas have been on our screens forever, but there have been only six TV commercials since the brand was launched two years ago. The Sheilas' Wheels concept was devised by veteran freelance creatives Chris Wilkins and Sian Vickers, the husband-and-wife team who also created Direct Line's four-wheeled red phone and Esure's Mr Mouse and designed the classic Smash Martians in the 70s. Esure head of marketing Chris Bowden says that TV advertising has played a huge part in the brand's success.
'We took a risk, didn't worry about going over the top and pushed the whole thing to the max. Within just three months, the campaign was generating awareness figures of 75%,' he says. 'We went for a lurid pink theme and a really catchy tune. We wanted to ignore insurance category norms in favour of behaving like a female lifestyle brand, and our research shows that women find the resulting advertising empowering, not patronising.'
The top-scoring ad ran in May, starring 'ordinary' women who had won a competition to appear alongside the Sheilas. The competition was designed to reach a broader and slightly older market than the norm, and was one of several ways (such as TV sponsorship and tying up with pop mogul Pete Waterman to release a single by The Sheilas) that Esure maximised the campaign's reach.
DLKW's Green believes that the strong brand assets of advertisers such as Sheilas' Wheels and Churchill account for their cut-through. 'TV has to reach your eyes, your ears, your heart and your brain - and if you can appeal to all those senses in harmony, then you are on the way to creating something memorable,' he says. 'You have to think about everything, from the dialogue to the colour palette to the sound mix.'
Several of this year's best-recalled ads are also strong contenders for the run-down of most irritating ads that Marketing will be publishing in January. It is, of course, possible for an ad to get noticed without the cringe factor, but Esure's Bowden is unrepentant: 'If some people don't hate your advertising, you'll never get noticed,' he says.
Marketing's Adwatch of the Year: Brands with the highest recall across the year
2007
Brand
Agency/TV buyer
Points
Mentions
TV spend
(£m)*
1
PC World
M&C Saatchi
480
27
20.56
2
Asda
Fallon London,
472
27
18.09
3
Marks & Spencer
RKCR Y&R
417
27
37.02
4
Kellogg
Leo Burnett JWT
276
21
60.77
Cheetham Bell JWT
5
Tesco
The Red Brick Road
256
18
35.9
6
Argos
CHI & Partners
249
19
24.68
7
B&Q
JWT London
208
20
25.8
8
L'OrŽal
McCann Erickson
205
19
50.26
9
DFS
Uber + RAP
202
11
35.66
10
Sainsbury's
AMV BBDO
193
18
26.06
11
KFC
Bartle Bogle Hegarty
189
14
13.23
12
McDonald's
Leo Burnett
177
13
17.76
13
Danone
RKCR Y&R
161
12
24.87
14
Currys
M&C Saatchi
140
18
16.36
15
MFI
M&C Saatchi
122
11
13.32
16
Boots
Mother
110
14
19.92
17
Land of Leather
The Walker Agency
103
14
13.45
18
Woolworths
BBH, Banana Split
97
8
10.81
19
Homebase
AMV BBDO
93
18
22.51
20
British Gas
CHI & Partners
88
7
11.7
*Nielsen Media Research data for the period Nov 2006-Oct 2007
Click here to see AMV BBDO top agency in Marketing's Adwatch of the Year 2007
Click here to see Vox Pops: the ads the public remembers
Adwatch Methodology
Adwatch is the UK's leading monitor of the memorability of TV advertising. The weekly Adwatch system was established more than 20 years ago to monitor the saliency of television advertising. Because Marketing wanted to avoid simply registering 'morning after' recall, it decided to research commercials a few weeks after they first go on air.
How it works
Xtreme Information draws up a list of all new commercials that broke in a particular week (about a month before the research takes place).
Mediaedge:cia works out the TV ratings of all the commercials on the list.
Any commercials that have had enough exposure (usually about 40 spots a week) are then sent to TNS and researched online among 1000 16- to 64-year-olds in Great Britain who read a brief description of each ad before confirming whether or not they have seen it.
Marketing puts the information in tabular form and prints the top 20.
The Adwatch of the Year table scores a brand's total mentions across the year ranked by a value-added point score. Every number-one position during the year scored 20 points, a number-two position 19, a number-three 18, down to a score of one point for a number-20 mention. These points are then added up to give an annual score.