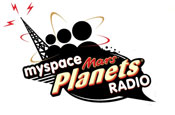 The hour-long radio show will be fronted by well-known presenter Alex Zane and co-presented by a selection of aspiring DJs from the MySpace community.
The show invites budding presenters to upload two-minute video reports on a subject of their choice. Listeners will be invited to vote on whether that week's discussion choice should remain on the show for the following week.
Up-and-coming bands will also be asked to submit tracks to be considered for the weekly playlist - with the potential of being heard by the site's nine million unique monthly UK users.
Dom Cook, director of marketing and content for MySpace UK, said: "There is so much talent and creativity within MySpace that we're always looking for ways to bring it to the surface."
Partnerships with the likes of Mars will probably become a key strategy for MySpace as it grapples with generating advertising revenue from MySpace's vast online audience.
Earlier this month, News Corporation warned MySpace would fail to hit its $1bn revenue target this year.
Peter Chernin, News Corp chief operating officer, said that earlier MySpace growth projections had been "very aggressive", but the group remained satisfied.
"Despite the obstacles we're facing, what we're accomplishing is extraordinary," he added.