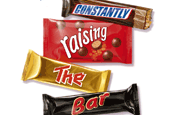 It is the first time that the company has advertised all of its bars together.

The work, created by Abbott Mead Vickers BBDO, shows brands such as Twix and Snickers with their iconic packaging changed to show the new campaign message, "raising the bar".

Fiona Dawson, managing director of Mars Snackfood, said: "We're constantly looking for ways to make the products better for the consumer. However, we're still a treat food and should be seen as a small bit of pleasure in your day."