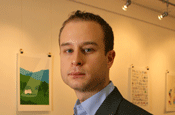 He replaces Matt Edwards, who was promoted to managing director of the Engine Group last year.
Ross, who will report to Will Orr, the chief executive of WCRS, will now take full responsibility for the agency's new business department.
Orr said: "Matt joins us with a great pedigree, and with great enthusiasm for what we're trying to achieve at WCRS. He's another example of some great talent that's joined the agency recently."
Ross started his career as a graduate at Ogilvy & Mather in 2001 before moving to DDB in 2003. In 2007 he spent a year working in new business before moving back to account management to run Volkswagen.