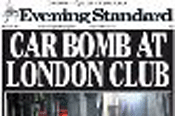 McCann pitched against Miles Calcraft Briginshaw Duffy, the Law Firm and two undisclosed agencies. The pitch was handled by the AAR and run by the Evening Standard head of marketing, Charlie Edelman.

The appointment comes less than a year after Associated Newspapers awarded the account to The Law Firm. However, the agency will continue to work on the £22 million Daily Mail account.

Media, which is handled by Starcom, was unaffected by the review.

Edelman said: "The competition for the Evening Standard advertising contract was extremely close, but we felt that McCann Erickson offered the right combination of strategic insight and creative flair."

McCann's advertising for the paper is expected to highlight its quality in an attempt to differentiate it from freesheets.

The launch of News International's thelondonpaper and Associated's London Lite last September has led to an 18 per cent decline in Evening Standard circulation to a six month average of 268,262 copies.