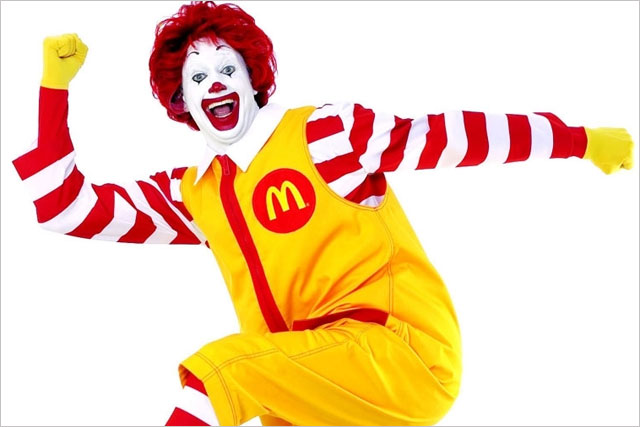 Kevin Newell, McDonald's chief brand officer, told Marketing: "Let me tell you something. Ronald isn't going anywhere. In fact my goal is to make Ronald more prominent.
"He is the best ambassador we have for children's wellbeing and promoting a balanced lifestyle and getting active.
Newell said: "People have gone after Ronald for this, that and the other. Ronald doesn't promote food. I challenge anybody to find an ad where they have seen Ronald actually promoting food."
The decision is likely to inflame health campaigners on both sides of the Atlantic. Some campaigners have called for McDonald's to kill off Ronald, who they argue encourages children to eat its fast food products.
Last year, 550 of the world's top medics told McDonald's in an open letter that the brand must be axed to help children's health. The experts told McDonald's in an open letter that McDonald and Happy Meals, which come with a free toy, should be banned.
Ronald McDonald made his TV ad debut for the burger chain in 1963. He last appeared in a UK advert in 2004 but is still used in promotional appearances, such as opening restaurants.
McDonald's believe Ronald is an effective brand ambassador in promoting children's wellbeing.
Newell said the mascot – who made an appearance at an event at McDonald's Olympic venue this week – would be used more heavily in the future to encourage children to take part in a an active lifestyle.
Follow @johnreynolds10